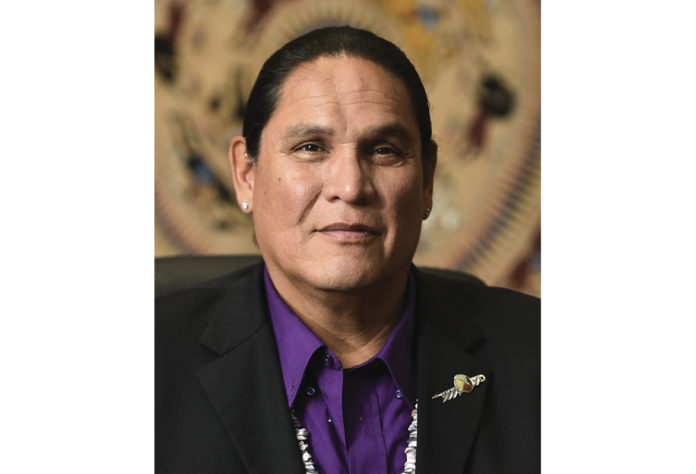 by Ernest L. Stevens, Jr.
The National Indian Gaming Association entered 2021 with a laser focus on vanquishing COVID-19 and helping the Indian gaming industry recover from the economic impacts of the pandemic, while also staying true to our mission of strengthening tribal sovereignty and protecting tribal government economic opportunities. Thanks to our work with Congress and the Administration, significant progress was achieved towards these goals. However, much work remains to be done to finish out this remarkable year on a strong note as we prepare for the new year ahead.
Future generations will point to 2021 with praise for the unprecedented policy and funding provisions for tribal governments included in the American Rescue Plan and the Infrastructure Investment and Jobs Act.
President Biden signed the American Rescue Plan into law on March 11, 2021. The law delivers $31.2 billion directly to tribal governments to help address the disparate impacts of the pandemic: by far the largest outlay to Indian Country in history.
To help tribal governments slow the spread of the virus and defeat the pandemic, the Rescue Plan directed the distribution of vaccines to Indian Country, and resources for testing and tracing.
The Rescue Plan also included several set-asides for tribal governments, setting precedent from a federal Indian affairs policy perspective, strengthening tribal sovereignty and respect for the governmental status of Indian tribes. For more than two decades, the National Indian Gaming Association has advocated to end federal programs that force Indian tribes to seek "pass-through" funding from the states, and instead establish set-asides for direct funding to tribes.
The second policy victory took some time to cross the finish line, but it provides equally historic levels of funding to Indian Country that again target the roots of the pandemic's disparate impacts on Native communities. Congress passed the Infrastructure Investment and Jobs Act on November 5, 2021.
The Infrastructure Act includes more than $15 billion in direct funding to tribal governments to repair roads and bridges, rebuild sanitation systems, finalize Indian water settlements, provide increased resources for tribal broadband and safe drinking water, and resources to address climate impacts from wildfires and relocation needs.
These historic investments will help transform Indian Country's infrastructure, make our communities more resilient, spur job growth, foster long-term economic development, and stabilize and diversify tribal economies for generations to come.
In any normal year, these achievements would stand alone as an incredible job well done. Congress However, with less than a month remaining in the First Session of the 117th Congress, there is much more work to be accomplished in Washington, D.C. before we can fully move into the holiday season.
First and foremost, on the December calendar is Congress' work to finalize the Fiscal Year 2022 spending bills, which must be done to avoid a shutdown of federal government program funding and services.
Tribal governments nationwide have consistently played a major role in the annual appropriations process for several reasons. While crucial to keeping the doors open in the federal agencies, annual appropriations represent the U.S. attempt to uphold its solemn treaty and trust obligations to Indian Country. The appropriations bills set the annual funding levels for Indian health care, tribal schools, public safety and justice, and many other programs and services heavily relied upon by tribal governments.
State and local governments also count on federal funding to meet the needs of their citizens, but Indian Country has disproportionately felt the brunt of government shutdowns in recent years.
Another deadline that is fast approaching is the need to raise the federal debt ceiling. While Indian Country has not played a major role in this debate, Congress' failure to raise the nation's borrowing limit would represent an unforced error of epic proportions. In September, Treasury Secretary Janet Yellen warned Congress that if it does not raise or suspend the statutory debt limit, such inaction will result in a self-inflicted economic recession and a financial crisis.
The final item that Congress will place great focus on in December is work to complete the budget reconciliation package known as the Build Back Better Initiative (BBB), which seeks to transform the federal government's social safety net programs and address the climate crisis.
Indian Country has lagged far behind the rest of the nation in each of these critical issue areas. From the climate change perspective, Native communities from all corners of Indian Country have been disparately impacted from wildfires, Superfund and related toxic waste sites, and rising waters that have forced many tribal communities to seek higher ground to survive.
The House passed its version of this $1.75 trillion bill in mid-November. The House bill includes an extended childcare tax credit for lower income families, establishes universal pre-K education, seeks to cut costs of higher education, includes funding for workforce development, and includes significant provisions to address climate change.
The House bill provides direct funding to tribal governments for health care facilities, additional funding for water supply projects, tribal public safety and justice, renewable energy and more.
Of great importance to Indian Country, the House version of BBB would address several key U.S. tax code provisions that have limited infrastructure investment on Indian lands. The House version would amend the tax code and provide parity for tribal governments in three key tax credit provisions that have eluded Indian Country. While the bill passed on a close party-line vote in the House, the measure faces a number of hurdles in the U.S. Senate.
Indian Country will maintain our focus in Washington, D.C. during this final month of the year. We have achieved so much, but we know that more must be done to finish out this year and truly celebrate with family and friends.
Ernest L. Stevens, Jr. is Chairman of the National Indian Gaming Association. He can be reached by calling (202) 546-7711 or visit www.indiangaming.org.