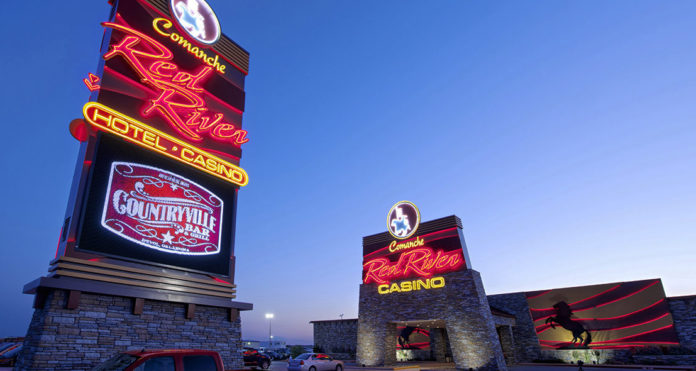 LAWTON, OK – Comanche Nation Entertainment is commemorating Comanche Nation's fourth decade of continuous success in the gaming industry. The Southwest Oklahoma gaming company will host a 40th anniversary celebration at Comanche Nation Casino in Lawton on Saturday, July 22, offering guests a free live performance by the Grammy award-winning Larry Gatlin and the Gatlin Brothers.
"Our 40-year anniversary marks the start of our longstanding mission to provide prosperity to the members of the Comanche Nation," said Mia Tahdooahnippah, CEO of Comanche Nation Entertainment. "Our presence in the gaming industry has not only created jobs and benefited us economically, but it has also allowed us to give back to the community, advance quality of life for Comanche Nation members and build each other up."
Comanche Nation first entered the gaming industry in July 1983 with the introduction of its highly acclaimed High Stakes Indian Bingo game.
Throughout its 40-year legacy, Comanche Nation Entertainment has undergone significant growth and development to better serve its guests, community and team members. With a workforce of over 750 team members, it now operates seven casinos and several travel plazas across Southwest Oklahoma and provides many benefits to its team members in a family-first work environment.
"Gaming resources not only address the immediate needs of our tribal members, but also the future of the community as a whole," said Tahdooahnippah. "We work with the Comanche Nation and each property to regularly give back to our communities, formalizing our giving initiatives to create the Comanche Cares program, with a purpose of providing support to the community in many ways."
Over the past two years, Comanche Nation Entertainment's non-profit charitable giving program Comanche Cares has made a significant impact by distributing food, offering holiday gifts, funding road improvements and investing in water supply systems across Southwest Oklahoma. The program has become a valuable resource with nearly $1.5 million allocated to Oklahoma communities and families.
"We have accomplished remarkable milestones in the past 40 years, but our vision extends far beyond what we have achieved so far," said Tahdooahnippah. "As we look ahead, our plans involve further expansion, continued support for those in need and a relentless commitment to enhancing our communities. But most importantly, we will always prioritize the lives and well-being of our tribal members."