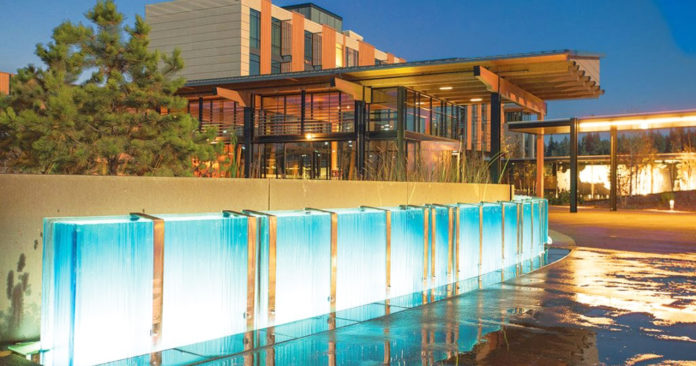 WORLEY, ID – Coeur d'Alene Casino Resort Hotel accomplished an exceptional year across multiple categories in 2022 – from the casino and golf course's performance, to educational program donations and supporting community members and organizations. The Coeur d'Alene Tribe-owned enterprise achieved these accomplishments despite challenges presented by economic inflation and staff shortages.
Coeur d'Alene Casino donated more than $200,000 to 40 different charities in 2022 through its Coeur Connections program and sponsorships. Beneficiaries included Blessing under the Bridge, Tools to Schools, Kootenai Cancer Center, Redband Rally, Operation Fly Together, Coeur d' Alene Tribal Domestic Violence, and Spokane Falls Trout.
The casino's "Pay it Forward" program last May gave out $31,000 to community members through random acts of kindness where team members hit the streets and paid for groceries, oil changes, haircuts, and meals, among other good will deeds. The casino also bought gift cards from local area restaurants and gifted them through radio promotions and distributed $50 gas certificates throughout the month. This will happen again in May 2023.
"We are thrilled to support the community and we prioritize programs that help people in need and empower young people through learning," said Laura Penney, CEO, Coeur d'Alene Casino Resort Hotel. "We strive to help people while being fiscally responsible and successful. That we did this amidst a volatile economy and staffing shortfall is particularly gratifying – a great testament to our dedicated team members and their hard, smart work."
Despite the challenges of economic instability, Coeur d'Alene Casino added new amenities and systems including a new, state-of-the-art surveillance system, Little Dragon Eatery, an Asian-food-inspired dining option, as well as the novel Discovery Den, where new video gaming machines can be experienced – and feedback provided – before they become casino fixtures.
The casino resort and its amenities garnered best-in-kind honors last year including Circling Raven Golf Course being ranked the No. 1 public course in Idaho by GOLF Magazine and Golfweek Magazine. The golf club successfully hosted its second consecutive Epson "Road to the LPGA" Tour event last August, a massive undertaking that resulted in more than 130 of the world's best women players competing for three days in the Circling Raven Championship presented by KXLY News 4.
American Bus Association's Destinations Magazine named Coeur d'Alene Casino Resort Hotel to its "2022 Best of the Best" in the Lodging category. "Destinations is pleased to present its Best of the Best or 2022. Our selection reflects destinations and attractions across the country that welcome groups and makes visiting by motorcoach a breeze."
Despite hiring challenges, Coeur d'Alene Casino leadership was able to find several promising teammates and promote other standout existing employees. These included hiring Molly Abrahamson as HR Director and Chris Runyon as Director of Golf and elevating David Norton as Food and Beverage Director, Steve Devlin as Front-of-House Food and Beverage Manager, Maria Starnes as Hotel Guest Service Manager, Desi Moses as Human Resources Manager, Kal Zaranc as Head Superintendent of Circling Raven Golf Course, and Tucker Louie-McGee as Promotions Manager.
"As gratifying as the results are that we achieved this year, we're planning more, bigger, and better promotions for 2023 – our 30th anniversary," said Penney. "We will be announcing those imminently and continue doing so throughout the year."