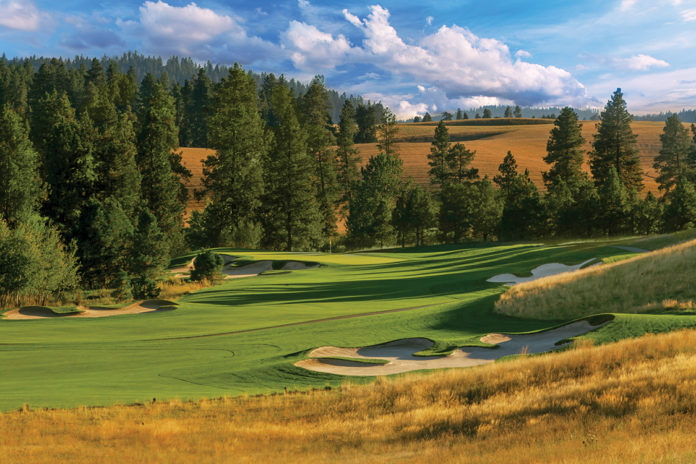 WORLEY, ID – Circling Raven Golf Club garnered the No. 19 ranking in Golfweek's 2021 Best U.S. Casino Courses, 2021, the annual compilation of America's finest casino resort golf amenities.
The Gene Bates-designed layout has climbed higher in the annual rankings in three of the last four years. Owned and operated by the Coeur d'Alene Tribe, it spreads out over more than 600 acres of ancestral homelands – nearly five times more than the average course globally.
The Palouse Region terrain, the tribe's mandate that Circling Raven provide a first-class experience and superb playing conditions, and Bates' inspired vision combined to create a memorable course. An array of diverse yet complementary holes rout through pristine countryside with no surrounding development.
The course was also rated the No. 1 public course in Idaho earlier this year by the magazine. To construct its rankings, more than 850 evaluators survey more than 3,600 courses annually – grading each nominated course on Golfweek's 10 strict standards of evaluation.
"Casino courses play a significant role in our Golfweek's best course rankings," said Golfweek Travel Editor Jason Lusk. "The best public-access courses in several states are owned by casinos, and the accompanying amenities and venues often present the opportunity for travelers to turn a round of golf into a longer, more enjoyable trip."
"The earth seems to stretch out in all directions, with miles of yellow grasses stretching to the Coeur d'Alene Mountains, part of the Bitterroot Range of the Rockies," writes Golfweek. "It's a visual treat, crossing ridges between greens and tees to see the next hole framed in one of three distinct environments: woodlands, wetlands and Palouse – a geologic term involving wind-blown hills, moguls and fertile sandy soil."
Located approximately 55 minutes from Spokane International Airport (GEG), Circling Raven measures 7,189 yards from the rear tees. A nationally honored retail shop and the excellent Twisted Earth restaurant with bar complement the award-winning course that is named for a prominent tribal chief.
The course and Coeur d'Alene Casino Resort Hotel will host the Circling Raven Championship presented by KXLY News 4 Now, August 23-29. A Symetra "Road to the LPGA" Tour event, rising-star women professional golfers will compete for shares of the $200,000 prize purse and a chance to qualify for LPGA Tour membership.