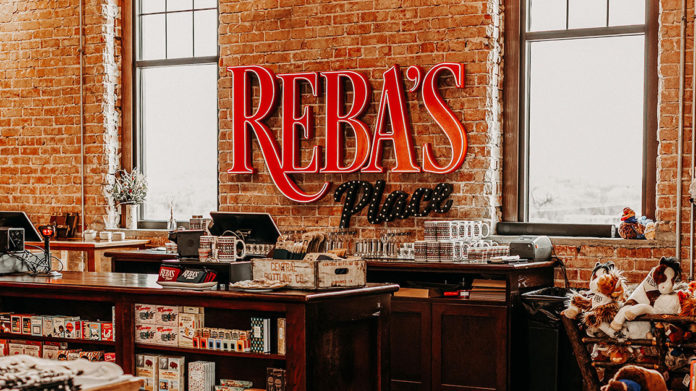 ATOKA, OK – The Choctaw Nation of Oklahoma and the city of Atoka, in partnership with Reba McEntire, hosted a grand opening for the new dining and entertainment venue, Reba's Place in Atoka, OK. Located in Southeast Oklahoma, Reba's Place offers a multi-story restaurant, bar, retail and entertainment venue for the local community and guests across the country.
"Music and the fans helped build this place and get it all together. And that's what a restaurant is all about, where people can come in, visit and eat," said McEntire. "Reba's Place is a joint venture with the Choctaw Nation of Oklahoma, and they are the best partner. It's exciting to work with people who have a passion for this town and for creating jobs, tourism, and new opportunities in southeastern Oklahoma, in the community where I grew up."
Constructed in a century-old Masonic Temple, the three-story, 13,284 sq. ft. venue features a dining space accommodating 250 people, a stage with state-of-the-art acoustics and lighting for a concert-quality experience and a mercantile, making it one of southeastern Oklahoma's premier destinations.
Reba's Place includes menu items McEntire grew up with in Southeast Oklahoma paired with choices drawn from cities and regions associated with her career and music, including Memphis and Nashville, TN, and New Orleans, LA. Menu highlights include Choctaw beef steaks and chops, slow smoked brisket, Nashville hot chicken, Memphis-style bologna sandwiches, an array of burgers and sandwiches, banana pudding jars and strawberry shortcake.
The main floor also showcases a restored antique bar that is more than 100 years old and offers a wide range of beer, wine and spirits crafted into signature cocktails.
Reba's Place will have live music regularly, focusing on local and regional musicians, and highlighting entertainers from small towns all around Southeast Oklahoma. Guests can expect to see live performances during both lunch and dinner.
Reba's Place is located at 319 E Court Street, Atoka, OK 74525, and is open daily, 11:00am to 9:00pm.