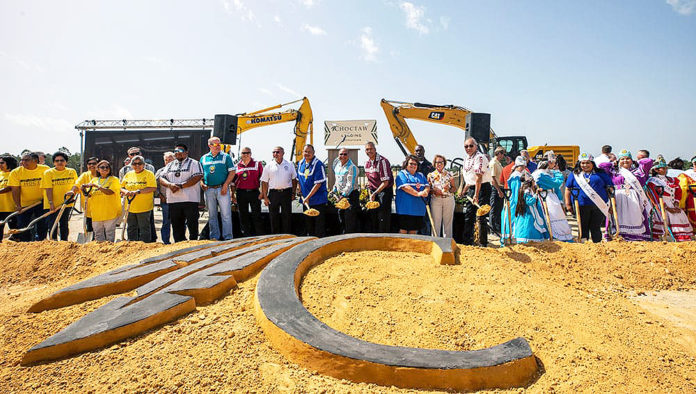 HOCHATOWN, OK – Choctaw Nation of Oklahoma broke ground this week on Choctaw Landing, the Nation's newest entertainment and resort development in Hochatown, OK. The Nation plans to invest $165 million on the project and will create more than 2,000 new jobs.
Choctaw Landing has been designed to be part of the natural beauty of the surrounding landscape with a goal to keep as many of the native trees and plants intact as possible. The four-story, 200,000 sq. ft. entertainment destination will feature 100 hotel rooms, 600 slot machines, eight table games, several restaurants and bars, a pool, an outdoor venue with an amphitheater, beer garden and a family-friendly game zone. In addition to the new resort, a 12,000 sq. ft. mercantile will adjoin Choctaw Landing offering a small grocery store/market, three dining options and a fuel station with 24 pumps.
Choctaw Nation of Oklahoma Chief Gary Batton led the groundbreaking ceremony and was joined by city officials, tribal council members, multiple gaming industry professionals, community members, and associates.
"At the Choctaw Nation of Oklahoma, our goal is to continue to provide for our fellow tribal members, families and our community," said Choctaw Nation Chief Gary Batton. "Choctaw Landing will provide significant opportunities for local residents and the future availability and quality of this hotel will not only attract business, but tourism opportunities for Choctaw Nation Reservation in Southeast Oklahoma."
Choctaw Landing will serve as an overlook into the natural beauty of the surrounding area and as a guide into the history of the Choctaw people. Hochatown is the site of an historical Choctaw Village and many Choctaw still live in the area, making it the ideal location for Choctaw Landing. The design of the mercantile and the resort will reflect the tribe's culture and the property will include their history and display art created by tribal members.
Choctaw Landing will open in late 2023.