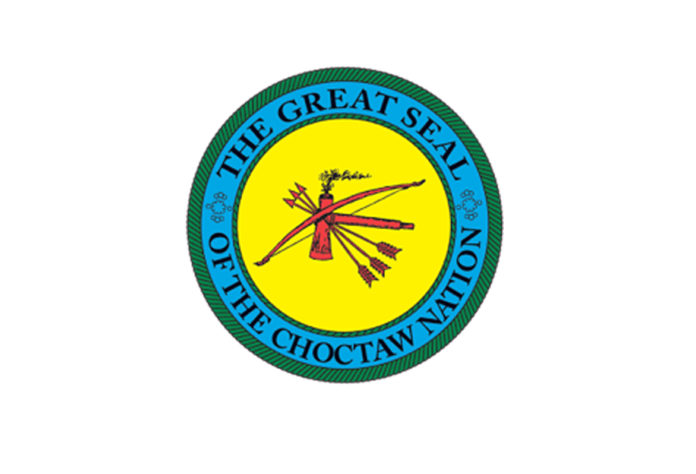 BRYAN COUNTY, OK – The Choctaw Nation of Oklahoma (CNO) and the Choctaw Development Fund (CDF) recently awarded the town of Kenefic, OK $202,850 and the town of Calera, AL $145,000 for public works improvements. Both towns will use the funds to match Community Development Block Grants (CDBG).
Kenefic will restore aging pipes to ensure clean and safe drinking water and Calera will upgrade the wastewater treatment facility to perform more efficiently."A top focus for Choctaw Nation is to improve our region's infrastructure issues and help build more resilient communities," said Choctaw Chief Gary Batton. "We are honored to provide the necessary funds that are vital to the health of roughly 2,400 tribal and non-tribal residents that reside in both Kenefic and Calera."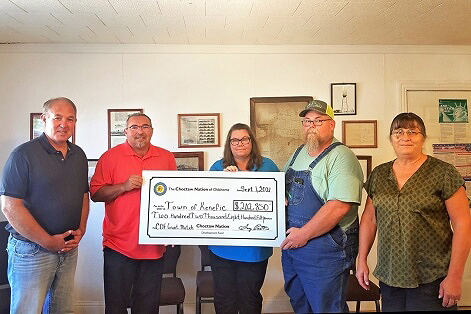 The Community Development Block Grant (CDBG) Program provides annual grants to states, cities, and counties to develop viable urban communities by providing decent housing and a suitable living environment, and by expanding economic opportunities, principally for low- and moderate-income persons. The CDF supports economic viability and sustainability by partnering with Choctaw small business owners, cities and municipalities to create long-term growth and job creation within the territories of CNO.
The town of Kenefic experiences low pressures of water and the funds received from CNO will be used for the installation of a smart valve standpipe and the replacement of aging piping between the standpipe and standpipe valve vault along with rehab on two water wells.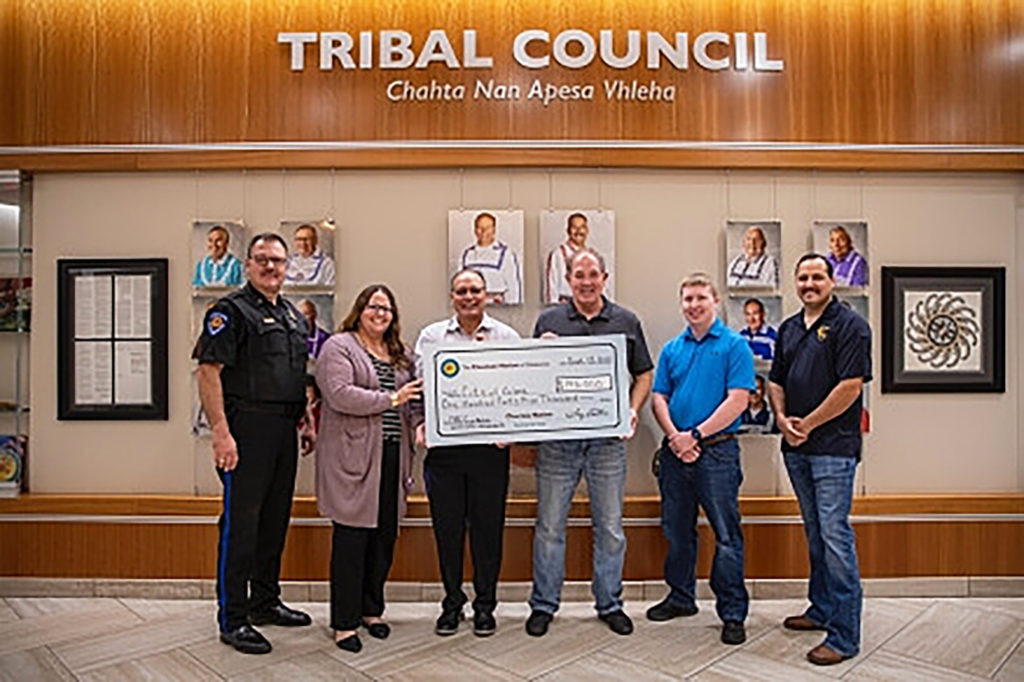 By installing a smart valve on the standpipe water line, the valve will maintain a height in the standpipe that keeps the system pressure at a higher level. The water lines between the standpipe and the standpipe valve vault that take water into and out of the standpipe have experienced leaks and have become difficult to repair.
"We thank Choctaw Nation for recognizing this need and for investing in our shared goals for the Town of Calera," said Brenton Rucker, Mayor of Calera. "Without the generosity from Choctaw Nation, we wouldn't have been able to make the necessary improvements to our wastewater treatment plant and continue to provide for our citizens."
The funds received to the town of Calera will be used to upgrade the wastewater treatment plant that will help the small rural town that is experiencing rapid growth that the current system cannot keep up with.
Upgrades include the purchase and installation of aeration equipment to improve treatment capability, modifications to the control systems to incorporate the new equipment and additional sludge de-watering equipment to improve increased flexibility in sludge wasting.