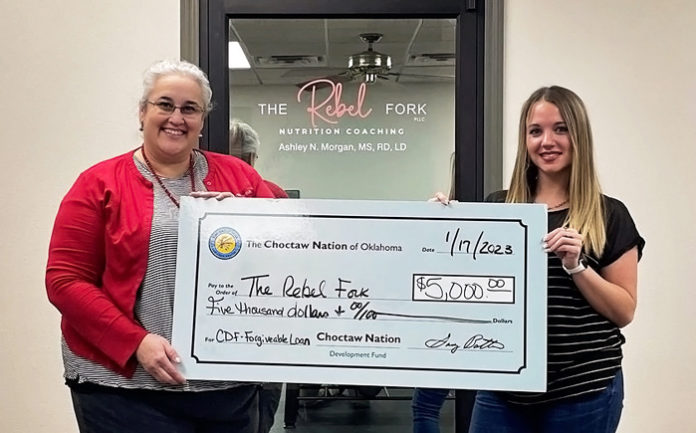 DURANT, OK – The Rebel Fork in Durant, OK, was awarded a $5,000 small business forgivable loan from the Choctaw Nation Small Business Development program and the Choctaw Development Fund. 
The Rebel Fork (TRF) is a startup nutrition company that offers virtual nutrition coaching specializing in blood sugar control to Bryan County residents. Owned and operated by Ashley Morgan, a licensed dietitian, TRF focuses on outpatient nutrition coaching for weight loss and medical nutrition. 
"As a registered dietitian, I educate and inspire others to adopt a lifestyle that breeds both health and happiness by sharing my passion for nutrition," said Ashley Morgan, owner of The Rebel Fork. "I support my clients by translating the science of nutrition into everyday information to prevent and treat illness, and the support from the Choctaw Nation will help continue my efforts in Bryan County."  
The Choctaw Development Fund supports economic viability and sustainability by partnering with Choctaw small business owners, cities and municipalities to create long-term growth and job creation within the territories of the Choctaw Nation of Oklahoma.
"Helping navigate healthy eating practices to improve overall health and assist in fighting disease is a huge priority at the Choctaw Nation of Oklahoma, so supporting Ashley at TRF in her efforts was an easy decision," said Valerie James, Choctaw Nation Senior Small Business Advisor. "Ashley is always ready to take on new challenges, and this loan will give her the tools needed to expand her business."
Funds from the Choctaw Development program will allow The Rebel Fork to purchase a new laptop to better track their clients' progress, assist with initial office rent and create a professional office space for client visits.