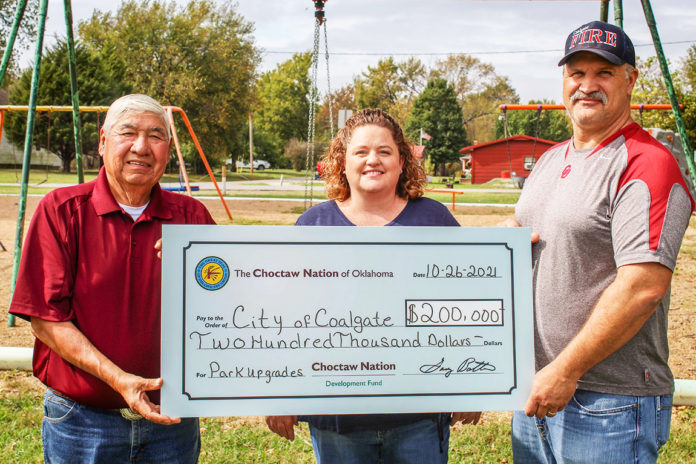 COALGATE, OK – The Choctaw Nation of Oklahoma and the Choctaw Development Fund recently awarded the town of Coalgate $200,000 that will be used to assist with funding on the Coalgate Community Park project. This is Phase I of a three-part project to update the Coalgate Community Park in Coalgate, OK.
"This project would not be possible without the support from the Choctaw Nation of Oklahoma, community members and stakeholders," said Aaron Blue, Coalgate City Manager. "We've spent countless hours to articulate a vision and a design of the park that reflects the needs of all of our residents."
The Choctaw Development Fund supports economic viability and sustainability by partnering with Choctaw small business owners, cities and municipalities to create long-term growth and job creation within the territories of the Choctaw Nation of Oklahoma.
"We are proud to be a part of the Coalgate Community Park project and look forward to both tribal and non-tribal members being able to celebrate the grand opening next spring and enjoy the updated facilities," said James Frazier, Choctaw Nation Tribal Council Member District 12.
Phase I of the Coalgate Community Park will replace the dilapidated playground and tennis courts with a fully accessible playground, party pavilion, modern bathrooms and a concession area. Phase II will include replacing and adding walking trails, including lighting and benches. Phase III will replace the bandstand with an amphitheater that overlooks the lake, along with improvements to landscaping and trees.
The Coalgate Community Park will provide new outdoor recreation and health opportunities for all residents. The expected completion date for the Coalgate Community Park is in Spring 2022.