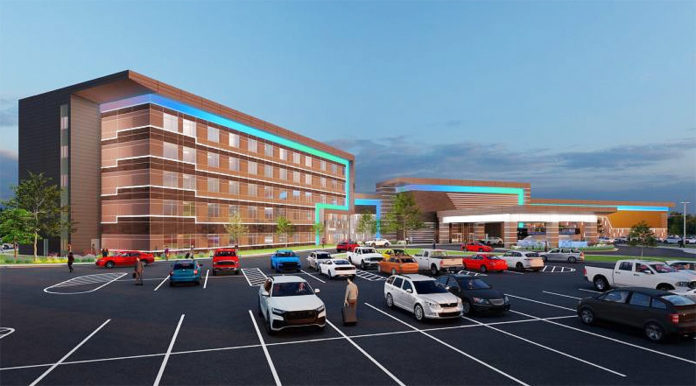 ARDMORE, OK – The Chickasaw Nation's development of a resort at Lake Murray is underway and more than halfway complete.
Lakecrest Hotel and Casino, located on State Highway 70, two miles east of I-35 exit 29, features a 58,000 sq. ft. hotel with 89 rooms, as well as a resort-style pool, business center and conference space. The development also includes a 70,000 sq. ft. casino that will feature about 1,000 electronic games, eight table games, and a restaurant and bar.
Chickasaw Nation Governor Bill Anoatubby said the project is a testament to the Chickasaw Nation's commitment to invest in and provide opportunities for communities across the 13-county treaty territory.
"Once complete, this project is expected to generate a great deal of jobs in the community and revenue, which will be used to fund and expand programs and services for Chickasaw people and help meet our mission, to enhance the overall quality of life of the Chickasaw people," said Anoatubby.
The Carter County development is anticipated to employ more than 200 people and have an estimated $3.7 million annual payroll. Studies conducted on the Chickasaw Nation's behalf estimate a total economic impact on the regional economy in year one of about $102.4 million, including construction. A five-year economic impact is estimated at about $307.6 million.
"We believe this project will become a destination location and economic engine for the region," said Chickasaw Nation Secretary of Commerce Dan Boren. "This project continues to leverage our experience in providing entertainment, retail and hospitality while attracting visitors from Texas, Arkansas and surrounding states."
Plans call for construction of the Lakecrest Hotel and Casino to be complete in the spring of 2024.
The Chickasaw Nation's annual economic impact in the State of Oklahoma is $5.5 billion, supporting more than 34,400 jobs and $1.8 billion in wages and benefits. A significant number of these jobs are associated with tourism attractions in rural Oklahoma, which provides a boost to the state and local economy and enables Oklahomans to achieve economic success while staying close to home and family.