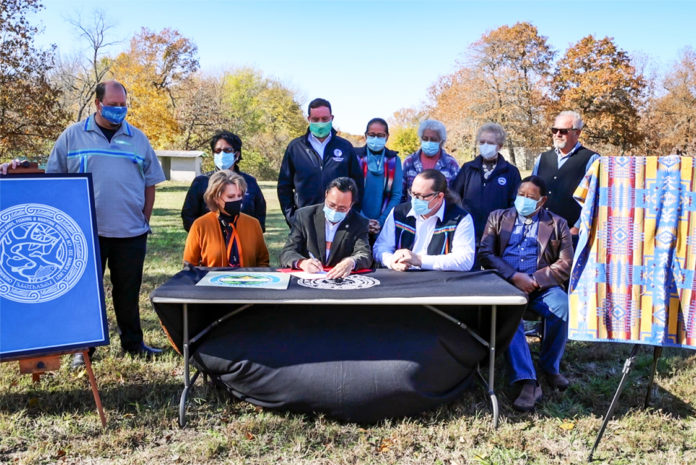 WHITE OAK, OK – Cherokee Nation Principal Chief Chuck Hoskin Jr. and Chief of the Shawnee Tribe Benjamin Barnes recently signed a Memorandum of Agreement (MOA) designating the cultural preserve near the town of White Oak in Craig County, OK.
Under the MOA, the Cherokee Nation's 155 acres will be used primarily as a cultural preserve to support the Shawnee Tribe as well as conservation traditions. The cultural preserve provides additional access to cultural resources near the Shawnee ceremonial grounds and reinforces preservation of the tribe's traditional grounds previously set aside under a long-term assignment.
"Land has always been sacred for our people and having dedicated preserves throughout our Cherokee Nation Reservation, including here in Craig County, for conservation, medicinal plant gathering and traditional activities connects us to our roots," said Chief Hoskin. "We've established a hunting and fishing preserve in Sequoyah County, and now dedicating this cultural preserve in Craig County is proving how vital the establishment of the Cherokee Nation Park, Wildlands, Fishing and Hunting Preserve Act of 2021 truly is. Cherokee Nation has an enduring friendship with the Shawnee tribe dating back to the 19th century. This agreement further solidifies that friendship for generations to come."
The MOA starts November 2021 for a term of 50 years.
"Our Shawnee ceremonials at White Oak and the ceremonials of our Cherokee relatives are very different from each other, but similar in that they've been stewarded over centuries and centuries by our respective ancestors," said Chief Barnes. "I appreciate that Chief Hoskin mirrors my own values and those of the Shawnee Tribe – our cultures and languages need to be preserved for our grandchildren's grandchildren. We can develop new ways of generating financial income, but we can't replace these sacred spaces and practices."