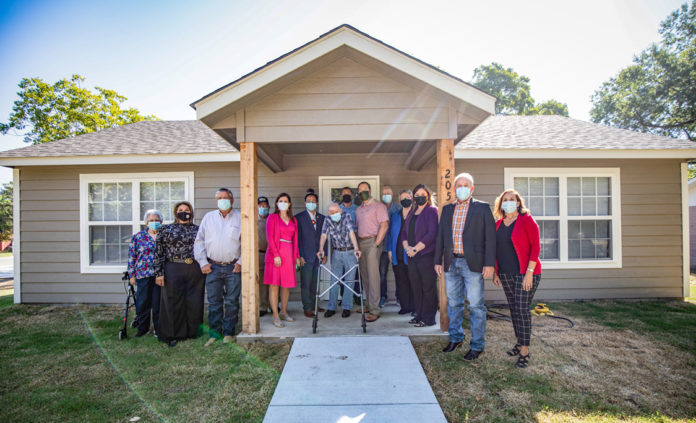 TAHLEQUAH, OK – The Housing Authority of the Cherokee Nation is ramping up a $22.5 million total investment to repair or build replacement homes that will improve the lives of Cherokee elders and support a wave of job growth throughout the Cherokee Nation Reservation. The Cherokee Nation recently bid out nearly 80 housing projects, which is the largest at one time in the tribe's history.
The historic investment is part of the $30 million Housing, Jobs and Sustainable Communities Act signed into law by Principal Chief Chuck Hoskin Jr. in 2019. Of the $30 million set aside through the Act, 75 percent – or $22.5 million – is earmarked for housing projects, and the remaining 25 percent has been used for improving communities through grassroots efforts including projects such as installing solar panels at Cherokee community centers, expanding broadband connectivity and more.
"When Deputy Chief Warner and I introduced the Housing, Jobs and Sustainable Communities Act two years ago, we knew that there were many Cherokee citizens on a waiting list for home repair or replacement," said Chief Hoskin. "We needed to inject more resources into addressing those needs as quickly as possible. The fallout of the COVID-19 pandemic and the impact it had on the regional workforce and the demand for supplies initially slowed our efforts, but the Cherokee people are innovative and determined, so we found ways to safely make progress despite those hurdles. Even amid COVID, we were able to complete 24 of the housing projects falling under this Act. Now, as we continue to adapt to COVID's impacts and we attempt to safely return to some sense of normality, the Housing Authority has filed its largest bid for home replacement and rehabilitation projects in the tribe's history. More than 50 homes will be replaced and approximately 30 more will receive much-needed repairs such as new roofs, HVAC and electrical work, plumbing, accessibility upgrades and more. We look forward to addressing the housing needs of Cherokee families in the coming months."
The first wave of the recent bids is replacing or repairing nearly 80 homes belonging to Cherokee elders like 90-year-old veteran Selbert Taylor. Last week, Chief Hoskin, Deputy Chief Warner, Secretary of State Tiny Glory Jordan, Chief of Staff Todd Enlow, Delegate to Congress Kim Teehee, Treasurer Janees Taylor, Housing Authority Director Jerri Ann Killer, and District 15 Tribal Councilor Danny Callison visited Taylor's new Pryor-area home, recently completed under the Housing, Jobs and Sustainable Communities Act.
Taylor said he is grateful to the Cherokee Nation for replacing his childhood family home, which was 116 years old and in desperate need of repair or replacement. Over time the kitchen roof leaked, so he placed pans on the floor to catch the rain. The garage was also crumbling.
"This home is a lot better. My old home needed a lot of work on it," said Taylor, who was a corporal in the Marine Corps and served 16 months in the Korean War in 1951. "I thank the Cherokee Nation for building me a new home. I really appreciate it."
Donna Brown, 74, of Hulbert, received repair assistance from the Housing Authority of the Cherokee Nation on her existing home. Brown said her floor was cracking, which became a safety hazard. That's when the Housing Authority installed new flooring and also updated her aged air-conditioning unit and windows.
"I'm just thrilled and so appreciative, I just cannot thank the Cherokee Nation and the Housing Authority enough for their help," Brown said. "This has been such a blessing, and getting to be my age, it is truly helping the quality of my life."
Through the Cherokee Nation Housing, Jobs and Sustainable Communities Act, all 214 qualifying applications for home repair or replacement by Cherokee elders or Cherokees with disabilities, which were filed prior to August 2019 and remained on a waiting list when the legislation was created two years ago, have been processed. In total, 95 percent of the 214 home replacement or repair projects are in progress, out for bid, undergoing environmental and other site inspections, or have been completed.
Along with improving the lives of Cherokee homeowners, the Housing, Jobs and Sustainable Communities Act is creating a wide array of jobs for contractors throughout the tribe's reservation. Those dollars will have a significant multiplier effect in local communities as goods and services are purchased.
"We've known since taking office and signing this critical legislation that the Housing, Jobs and Sustainable Communities Act was a strategic, forward-thinking endeavor that only adds to our continued investment as a tribe into Northeast Oklahoma," said Deputy Chief Warner. "This infusion of funds for Cherokee homeowners and communities is changing the lives of Cherokee families not just today, but it's changing lives in ways that will impact generation after generation of Cherokees."
Funding for the Housing, Jobs and Sustainable Communities Act is set aside primarily through a special dividend issued by Cherokee Nation Businesses.