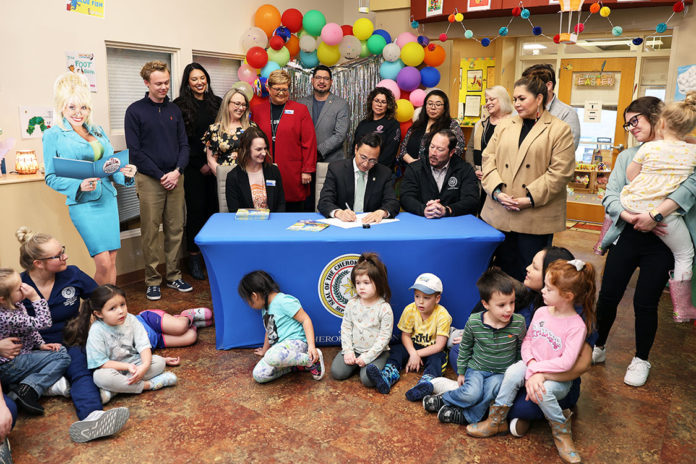 TAHLEQUAH, OK – The Cherokee Nation is partnering with Dolly Parton's Imagination Library and the Lake Area United Way to provide monthly book subscriptions to Cherokee children.
The multi-phased project will begin by providing monthly books to those up to age four within the Cherokee Nation childcare system. The free books are vetted and selected by Dolly Parton's Imagination Library and mailed at no cost to the home of the child.
"By working with these two great partners, the Cherokee Nation will be helping to put quality, educational reading materials into the hands of our youngest Cherokees," said Principal Chief Chuck Hoskin Jr. "We know that reading sparks creativity within children and helps them to develop skills they will rely on for the rest of their lives. This is an exciting project and we're happy to kick off this important work within the Cherokee Nation childcare system."
Cherokee Nation leaders and leaders from the Lake Area United Way met in Tahlequah to celebrate the enrollment process for the program's first participants, the Cherokee Nation Child Development Center's Brown Bears Class of three and four year-olds.
"This is a fantastic opportunity for Cherokee youth," said Deputy Chief Bryan Warner. "As adults, many of us recall those favorite books we had as children. No matter our age or experiences, the memories of those books and the lessons they taught us carry with us through life."
Future phases of the program will expand to include children born in the Cherokee Nation healthcare system's labor and delivery department, and later to Cherokee children who can sign up online or during their citizenship registration process.
"What a great thing it is for communities where they can pull together and you can see every family reading the same book to their children every month," said Lake Area United Way Director Jenny Jamison. "What an awesome thing to unite your community."
Dolly Parton's Imagination Library was launched in 1995 by Dolly Parton. The first book order totaled just over 1,700, but today, the Imagination Library program sends more than one million books every month to children around the world.