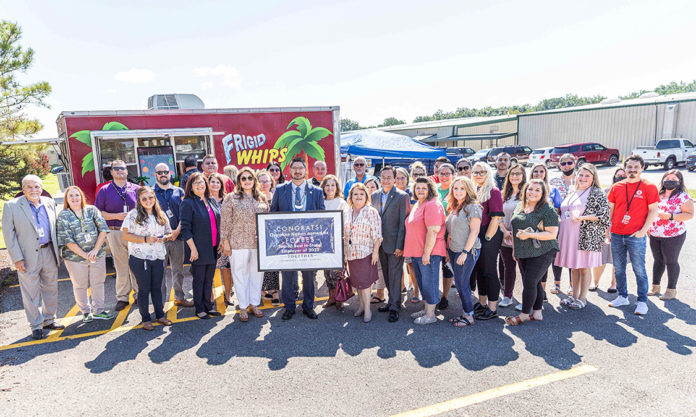 TAHLEQUAH, OK – The Cherokee Nation has been named a Forbes Top 10 Best In-State Employer of 2022.
The honor marks the first time the Cherokee Nation tribal government has been recognized by Forbes as among Oklahoma's most successful employers and best places to work in the state. The award was announced this week by Forbes, and Cherokee Nation Principal Chief Chuck Hoskin Jr. celebrated the recognition with employees.
"It's a great honor for Cherokee Nation to be recognized as among the leaders in Oklahoma by the Forbes brand," said Chief Hoskin. "At Cherokee Nation, we believe in taking care of our employees and have made great strides by raising the minimum wage, offering mental wellness leave, ensuring gender equality and implementing family leave benefits so that our employees are supported and in turn can better serve our citizens."
Headquartered in Tahlequah, the Cherokee Nation was ranked No. 10 Best-in-State Employer in Oklahoma for the government services industry. A total of 35 organizations in Oklahoma were recognized by Forbes.
"We have long held that Cherokee Nation is among the most successful government services entities and this is acknowledged today by industry experts," said Deputy Chief Bryan Warner.
Oklahoma results were based on evaluations from direct and indirect recommendations from employees who were asked to rate their willingness to recommend their own employers to friends and family. America's Best-in-State Employers 2022 were identified in an independent survey based on a vast sample of approximately 70,000 Americans working for companies with more than 500 employees in the U.S. Nationally, across 25 industry sectors, 1,380 employer brands were ranked among the top employers.
Recently, Chief Hoskin and Deputy Chief Warner announced that the tribe is raising its minimum wage, in increments, to $15 an hour by October 2025. Employees have been awarded incentives for receiving COVID-19 vaccines and boosters and were also eligible for hazard pay.
Among other recent initiatives, employees are allowed to take two paid hours of mental wellness leave per month and are entitled to paid family leave for births, adoption, or foster placement of a child in the home.