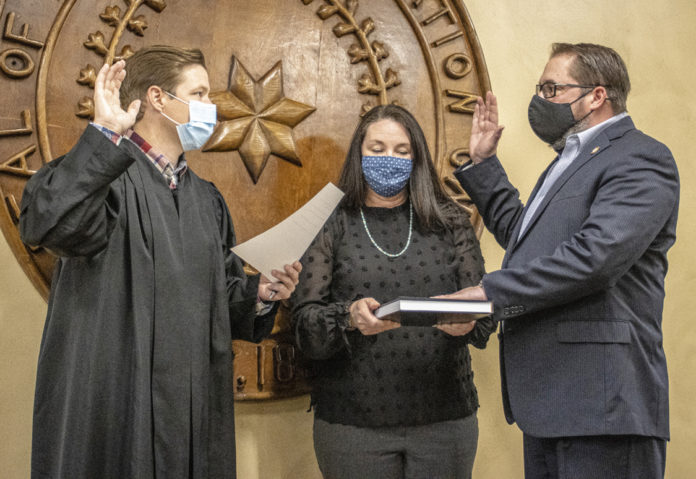 TAHLEQUAH, OK – Cherokee Nation Marshal Shannon Buhl was sworn in to begin his third term as the tribe's head law enforcement officer following a vote of confirmation by the Council of the Cherokee Nation. Buhl, of Tahlequah, was first sworn in as Cherokee Nation Marshal in 2011.
"I am extremely honored to receive this reappointment to continue serving the Cherokee Nation," said Buhl. "We are working to expand the number of tribal law enforcement officers we have protecting our reservation, and we have been working diligently to continue meeting our responsibilities under the historic U.S. Supreme Court McGirt decision. That's a task I know we will continue to work toward for the benefit of all those who live in or travel to the reservation area. I am sincerely grateful for being entrusted with this responsibility, and I am thankful to work with a team of men and women who are dedicated to serving this tribe and our communities."
Buhl, nominated for confirmation by Principal Chief Chuck Hoskin Jr., was sworn in for his third five-year term by Cherokee Nation District Judge Luke Barteaux.
The council also approved a resolution to support Chief Hoskin and Deputy Chief Bryan Warner's proposals on health care construction. The projects include a new hospital to replace W.W. Hastings Hospital in Tahlequah, a replacement of the outpatient health center in Salina and support for Northeastern State University's new optometry school.
"After a decade of such dramatic expansion of our Cherokee Nation health system, we must keep investing," said Chief Hoskin. "I applaud our Tribal Council for making the move to provide our Cherokee Nation citizens a state-of-the-art hospital to replace the undersized existing Hastings structure. It's one of the most ambitious projects in the history of our tribe and I look forward to providing more details about this exciting project in the future."
More details on the projects will be announced in the coming months. The Council also reappointed James Simmons as a commissioner of the Housing Authority of the Cherokee Nation Board of Commissioners.