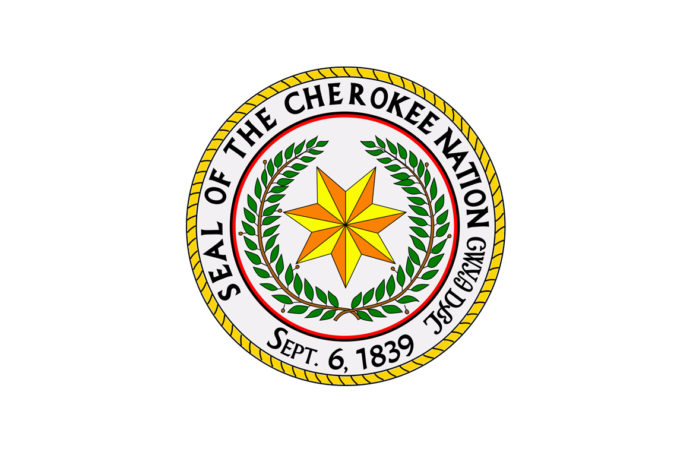 TAHLEQUAH, OK – Cherokee Nation Principal Chief Chuck Hoskin Jr. and Deputy Chief Bryan Warner are proposing new legislation that would commit over $100 million for addiction treatment facilities, new treatment programs, a scholarship endowment, and other initiatives using settlement funds from the tribe's opioid and e-cigarette settlements.
Chief Hoskin and Deputy Chief Warner's proposal amends the historic Public Health and Wellness Act. The 2021 law, first amended in 2022, already dedicated seven percent of third-party health insurance collections to physical and mental wellness programs and locked down $15 million in opioid settlement funds for addiction treatment facility construction.
The legislation would dedicate an additional $83 million in opioid settlement funds and nearly $2 million in settlement funds from e-cigarette maker Juul.
"In my 2022 State of the Nation Address, I pledged to build a drug treatment facility for the Cherokee people, by the Cherokee people, and make the opioid industry pay for every penny of it," said Chief Hoskin. "Deputy Chief Warner, the Council and I are serious about getting justice for the Cherokee people by expanding and improving addiction services. These dollars and the work of our talented team in the Cherokee Nation Attorney General's Office, enable us to keep that commitment."
Chief Hoskin and Deputy Chief Warner also announced that the initial capital project under the legislation will include an $18 million addiction treatment facility southwest of Tahlequah. The tribe previously helped citizens by contracting with outside treatment centers and will now be able to serve citizens in-house on the reservation.
The legislation allocates over $100 million in "public health settlement" funds as follows:
$73 million for a "Behavioral Health Capital Fund." The fund would be used to construct facilities across the reservation over the next five years to meet behavioral health service needs, including drug treatment and prevention.

$5 million for a "Behavioral Health Scholarship" endowment to encourage more Cherokee citizens to enter behavioral health fields and work in the tribe's health system. The scholarships would include enhanced grants for students who go on to work for Cherokee Nation Health Services as part of a "pay back" program. Scholarships would be available to Cherokee citizens living within the reservation and outside the reservation.

$10 million over 10 years for "Career Services Recovery Employment Programs." The programs would address employment and other economic barriers faced by Cherokee Nation citizens in addiction recovery.

$10 million over 10 years for "Behavioral Health Innovative Addiction Recovery Programs." The funding will enable Cherokee Nation's Behavioral Health to develop new addiction recovery programs using the latest and most promising innovations and strategies in the field.

$2.8 million "Smoking Cessation Fund," boosting public health smoking cessation programs by $350,000 per year for the next eight years, doubling the funding of those programs.
"The Public Health and Wellness Fund Act is already the gold standard across Indian Country for prioritizing public health as well as physical and mental wellness programs and services," said Deputy Chief Warner. "Our new legislative proposal improves upon the law by making the largest investment in addiction treatment in Cherokee history."
Councilor Dora Patzkowski, the legislation's lead sponsor, said the proposal has the potential of making a long-term impact on Cherokee Nation.
"I'm proud to be a sponsor of the Public Health and Wellness Fund Act," said Patzkowski. "The Cherokee people want programs and services that bring healing and they want Cherokees to provide that healing. This law will mean that we can build addiction treatment facilities and create a scholarship endowment to ensure that we have a pipeline of Cherokees to fill the therapist, doctor and nurse positions we will need to staff these facilities."
The proposal also includes reform of the existing law to maximize the annual revenue available for physical and mental wellness programs.
"The Public Health and Wellness Fund Act has been responsible for dedicating over $18 million per year for programs that are critical to good health," said Councilor Mike Dobbins. "Every dollar we spend on mental health and physical wellness improves the quality of life for all of us and provides an immeasurable return on investment."