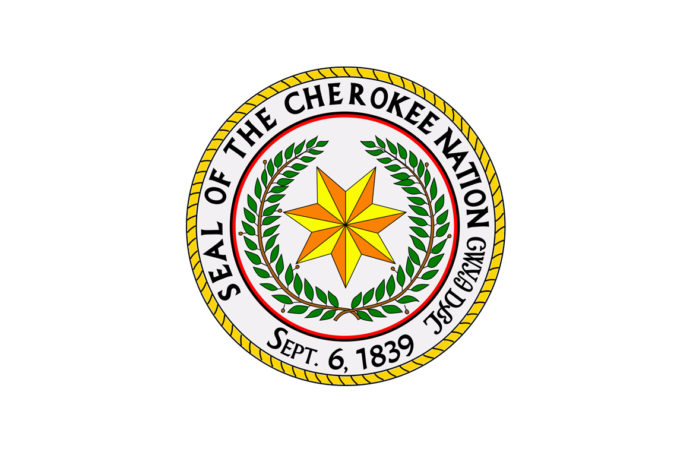 TAHLEQUAH, OK – Cherokee Nation Principal Chief Chuck Hoskin Jr., Deputy Chief Bryan Warner, and members of the Cherokee Nation Early Childhood Task Force met recently to discuss a number of major early childcare initiatives in response to the task force analyzing childcare needs within the reservation. Among them are 35 percent pay increases for the tribe's early childcare workforce, and the creation of flexible spending accounts to help with tribal employees' childcare expenses.
In March of 2022, Chief Hoskin created the Early Childhood Task Force to identify areas of opportunity and areas of unmet needs regarding early childcare within the Cherokee Nation Reservation. The task force was assembled as part of the Verna D. Thompson Early Childhood Education Act created by Chief Hoskin and Deputy Chief Warner in 2021 and approved by the Council. It invests up to $40 million to replace or rehabilitate all of the tribe's Head Start centers.
"Whether you need childcare directly, someone in your family needs childcare, someone in your community needs it, or maybe you will need childcare at some point in the future, it's an issue that impacts all of us," said Chief Hoskin. "We want young Cherokees to have great opportunities in childcare, which is an important part of their development. We want to make sure these services are available directly through the Cherokee Nation with places like our Child Development Centers, or the private partners we work with in a variety of capacities. We want the best for the Cherokee people, and childcare is an area where we can make a positive impact. One critical component of the Verna D. Thompson Early Childhood Education Act included a comprehensive review of all early childhood educational services in the reservation for Cherokee citizens. The task force has met, they have thoroughly reviewed those services throughout the reservation, and we have a number of new initiatives that we believe are going to make generational impacts for our citizens and allow us to seize the opportunity to close any gaps that might exist while building on our successes."
Chief Hoskin and Deputy Chief Warner said Cherokee Nation's early childcare workforce will receive a pay increase of 35 percent in response to the task force's comprehensive review. Cherokee Nation has already surpassed the national salary average for childcare professionals.
The tribe will also provide sign-on bonuses when hiring for early childcare positions, and provide increased educational opportunities for the early childcare workforce through Cherokee Nation Career Services.
"Families are always looking for a good place where they can provide their children with important life skills at an early age," said Deputy Chief Warner. "We know each community has different, individual needs, so taking a strategic approach is critical to being successful. That's why I appreciate the portfolio of initiatives that have resulted from the meetings of this task force."
The Cherokee Nation will also make additional investments into the lives of its tribal government workforce by offering a Flexible Spending Account (FSA) and contributing $2,000 per child toward the FSA to be used for childcare needs. This would allow employees to save funds pre-tax, reducing overall childcare costs.
The tribe will also partner with Cherokee Nation Businesses (CNB) to build a new childcare facility on CNB's Hard Rock property in Catoosa to bring reliable, affordable childcare to thousands of employees in the area. The facility will help fill a gap in the childcare needs of Rogers County, where there are nearly 4,000 Cherokee children ages 12 and under, second only to Cherokee County within the Cherokee Nation Reservation. For each available childcare slot in Rogers County, there are three children.
"Identifying communities that lack enough childcare and then taking swift action shows what we can do when we listen and work together," said Cherokee Nation Tribal Councilor Keith Austin. "A new childcare center on our CNB corporate campus in Catoosa will serve the whole community and is just one of the many opportunities we have to increase childcare services across the reservation."
Chief Hoskin and Deputy Chief Warner also said the tribe will contribute an additional $5 million to the important work of local Boys & Girls Clubs, which provide after-school programs for thousands of Cherokee children in the reservation.
In fiscal year 2022, Cherokee Nation's Child Care and Development Department provided more than $16 million in childcare subsidies for Cherokee citizens, serving more than 1,800 families with more than 2,900 children. Cherokee Nation also provides childcare provider training including health and safety, cultural activities, professional development, and more throughout the year.
Cherokee Nation's Cherokee Connections Program focuses on relative providers who are caring for children while parents work or attend school. The program strives to improve the quality of care by helping relatives provide learning opportunities and school readiness skills.
The tribe's childcare parent services include childcare referrals for parents and the Cherokee PARENTS Program, a 20-week, in-home parent support program.