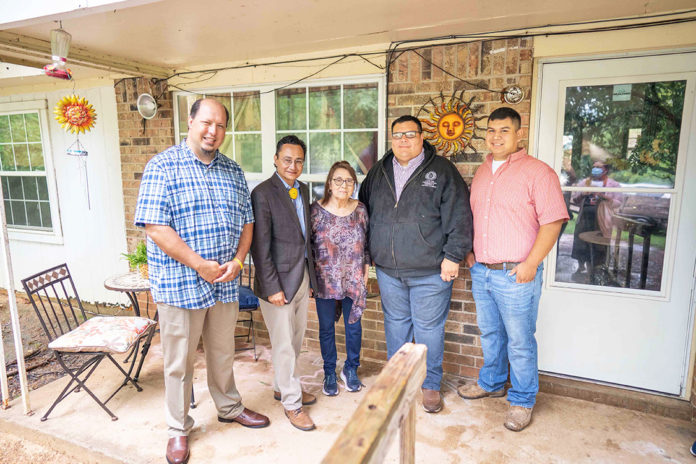 STILWELL, OK – For nearly a year, fluent Cherokee Speaker Rosie Flute was cooking family meals on an electric burner after her stove wore out. Raindrops would frequently drip down the ceiling in her living room. Last week, the 70-year-old elder received a new roof, along with a stove and walk-in shower thanks to a new program the Cherokee Nation started called Speaker Services.
"A lot of our fluent speakers are not necessarily coming into the office asking for help so we had to figure out how to find and help them," said Cherokee Nation Principal Chief Chuck Hoskin Jr. "Speaker Services started out with just a few hundred thousand dollars to repair a few speaker homes we encountered, and is now a program on its own that over the next three years we will dedicate over $7 million to serving."
The Speaker Services program is under Cherokee Nation's Language Department and now has dedicated staff – four crews with workers that also speak Cherokee – that go out daily helping with everyday basic needs from installing wheel-chair ramps and new roofs to accessing hearing aids and medical devices.
Since January 2022, the Cherokee Nation has expended $1.2 million on more than 200 housing projects for Cherokee speakers and installed over 100 appliances through the Speaker Services program. Chief Hoskin and Deputy Chief Warner have set aside another $6 million to help even more speakers with housing rehabs and other essential needs over the next three years.
"Cherokee Nation came up with a program that they had been doing, but that didn't really have a structure to it because it was a group going on a volunteer basis and a weekend thing to help speakers provide services that they didn't feel comfortable getting or going into an office to apply for," said Sammy Eagle, Manager of Speaker Services. "Over the past year, Chief Hoskin took the initiative to start Speaker Services where now we have a program and broader range to go after fixing these homes and do things we weren't able to before with. For us to show up and offer assistance is a big deal and for the speakers knowing someone cared enough and Cherokee Nation cared enough about them to provide this."
This year, Speaker Services provided 102 appliances, 57 utility or property upgrades, 52 roof repairs, 40 walk-in showers, 28 HVAC and 18 electrical repairs, among other projects.
"Speaking Cherokee has been my whole life – my parents, grandparents, everyone in my family we are all fluent speakers," said Flute. "I think about the language (loss) a lot and I appreciate what Speaker Services is doing. This program has been a big help and flows into our needs instead of us just about begging for help or not knowing who to contact. They are reaching out to the us."
The Cherokee Nation has an estimated 2,000 fluent Cherokee speakers among the tribe's 430,000 citizens and has launched a Cherokee Immersion School, Cherokee Language Master Apprentice Program, and community and online classes to teach the language to children and young adults as second-language learners.
The Speaker Services program is the first of its kind and already drawing interest from other tribes, said Director of Cherokee Nation's Language Department Howard Paden.
"We didn't realize it would end up as big as it is," said Paden. "The belief is if speakers aren't worried about their roofs leaking, they can worry about their grandkids learning Cherokee. Over the next three years, we are planning to fix 1,000 to 1,200 more speaker homes and needs."
Although Speaker Services represents dedicated outreach and resources to fluent Cherokee speakers, Cherokee Nation also provides a variety of housing services to all low-income citizens across the reservation through the Housing Authority of the Cherokee Nation.
Chief Hoskin and Deputy Chief Warner's Housing, Jobs and Sustainable Communities Act, enacted in 2019 and expanded earlier this year, provided the recent funding boost to Speaker Services and included the largest overall housing investment in Cherokee history.