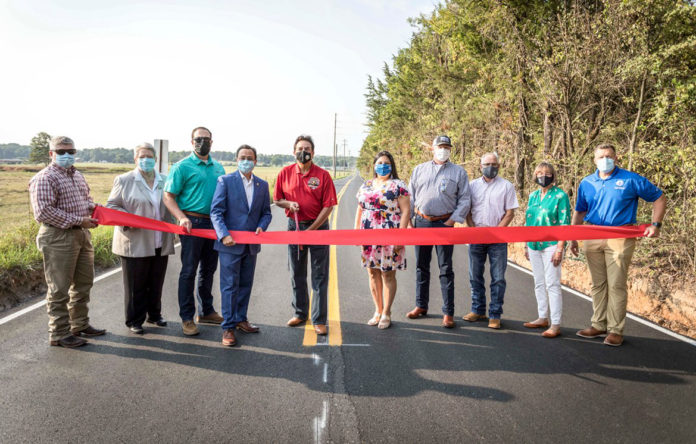 TAHLEQUAH, OK – Cherokee Nation officials recently joined leaders from the city of Tahlequah to cut the ribbon on the Bliss Avenue road improvement project.
Cherokee Nation Principal Chief Chuck Hoskin Jr., Deputy Chief Bryan Warner, Secretary of State Tina Glory Jordan, Chief of Staff Todd Enlow, Department of Transportation and Infrastructure Executive Director Michael Lynn, Director of Transportation Andy Quetone, District 2 Tribal Councilor Candessa Tehee, and former District 2 Tribal Councilor and current Special Envoy for International Affairs and Language Preservation Joe Byrd met with Tahlequah Mayor Sue Catron and Tahlequah City Administrator Alan Chapman to celebrate the road work, which was completed on Bliss Avenue running north from East Downing Street to Kay Lane.
"Improving our infrastructure within the Cherokee Nation really is a critical component of the quality of life for Cherokee citizens, but projects like this benefit all of us, regardless of tribal citizenship," Cherokee Nation Principal Chief Chuck Hoskin Jr. said. "Road improvement projects can increase the value of the properties that are served by those projects and can also be an inducement to private investment. I'm proud of the working partnerships that the Cherokee Nation and local municipal and county agencies have throughout the reservation."
The Cherokee Nation contributed $100,000 for the Bliss Avenue project, provided through funding that was set aside through motor fuel tax and special bridge allocations from District 2 during Joe Byrd's term on the Council of the Cherokee Nation. Byrd now serves as Special Envoy for International Affairs and Language Preservation.
"I really commend the mayor and the city and their working together with the Cherokee Nation," said Byrd. "This is how we improve our area. This road is really one of the most needed projects that we've had in a long time. A lot of Cherokee people attend Elm Tree Church that's also located along this road. So I'm very happy at how this thing turned out and just give kudos to the administration, county commissioners, and the mayor for putting this together."
The repaving was approximately three-quarters of a mile long. The project included tearing out asphalt, removing a failing base, and evaluating the road to prevent water runoff from overtopping the road. There were also new cross drain pipes installed, four inches of new asphalt added, as well as striping.
"This road was one of the worst ones in our city," Tahlequah Mayor Catron said. "With our lack of funding and our resources being stretched, there wasn't any way we could get to it any time soon. The gift that was given to us by Cherokee Nation means so much to the people that live along this road and to our community because now they have access. They don't have to worry about if they're going to break a tie rod or something else. This gives access to all the people who live on the north end of this road to the center of our community in a very quick and safe manner. It's due to the gift that we got from the Cherokee Nation and the work that was done by the city road crews that got out here and got it done."