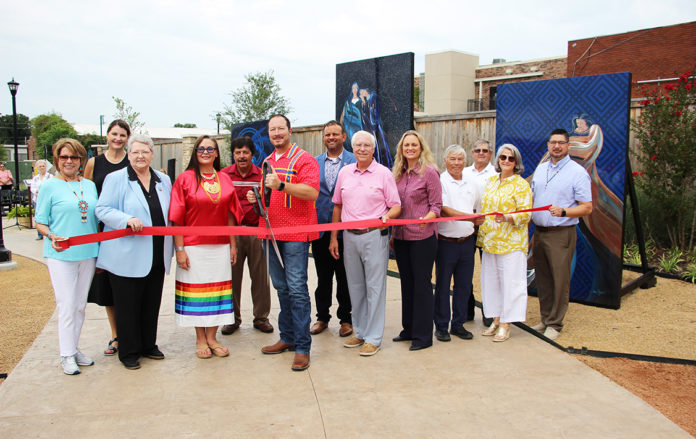 TAHLEQUAH, OK – Cherokee Nation officials recently gathered to celebrate the new Cherokee Cultural Pathway in downtown Tahlequah.
Announced in March 2021, the pathway was created out of necessity to ensure safe passage of pedestrians between downtown attractions. However, the pathway plans quickly evolved and it is now recognized as a destination among the tribe's robust tourism offerings.
"The Cherokee Nation Reservation is a special place full of vibrant history and culture," said Cherokee Nation Deputy Principal Chief Bryan Warner. "This pathway is an opportunity for us to extend our museum and tourism programming into the community, while embracing the beauty of nature. As I look around this morning, I can envision the pathway in full use this weekend during Cherokee National Holiday, with people taking in the art displays, enjoying nature and enhancing the sense of community that Tahlequah is known for. My hope is that continues long after holiday."
The first featured artist installation is Cherokee National Treasure Traci Rabbit. Her "Resilience: Standing in Our Power" series features 15 large-scale pieces throughout the pathway.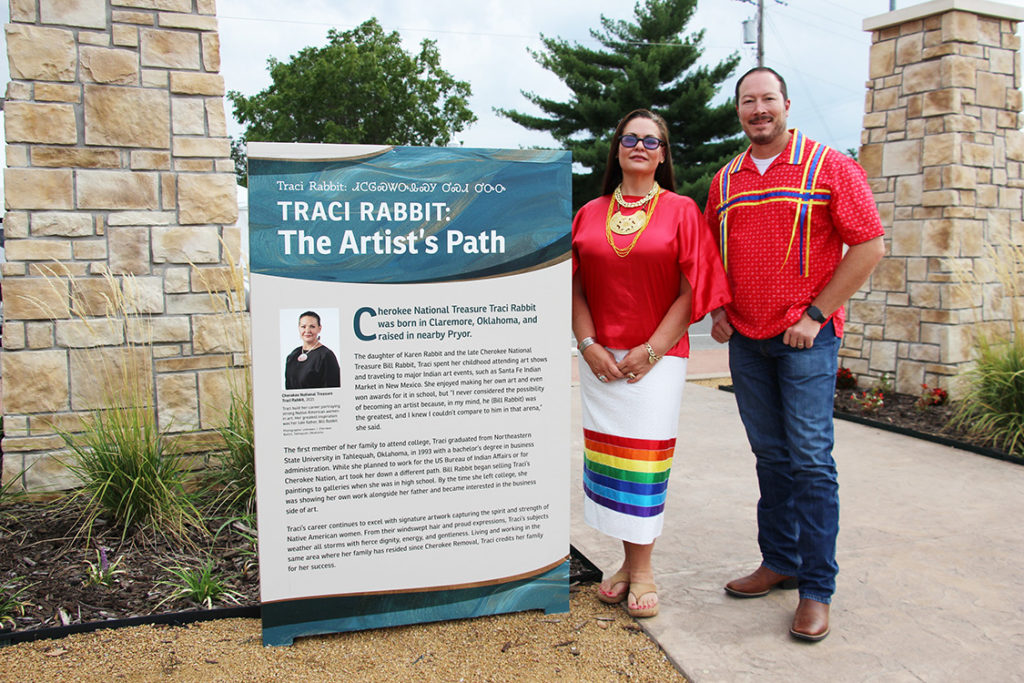 "I'm honored to have been selected for this project and to see an investment being made in alternative, innovative platforms for sharing Cherokee art," said Rabbit. "I never thought when I was at school at NSU, that one day I'd have 15 larger-than-life pieces of work on display in my mother's hometown. It's an incredible feeling, and I hope that the art inspires and encourages young girls that anything is possible. Dream big, really big!"
The project was inspired by Cherokee Nation First Lady January Hoskin's pledge to expand and enhance cultural art throughout the Cherokee Nation Reservation. In addition to improving safety and accessibility, the pathway provides various public gathering spaces that will be utilized for artist talks, community classes, mini-markets and more. ­­­
"The idea behind the pathway is that it is ever-changing," said Travis Owens, Vice President of Cultural Tourism. "It is inclusive and inviting by design, and we hope that it will be a place where community and culture thrive."
The cultural tourism team is currently working on a lineup of other featured artists for the space, as well as permanent art installations to further enhance the pathway.
Cherokee Nation's robust tourism offerings currently include award-winning specialty and event tours, the operation of six Cherokee Nation museums, and various Cherokee Nation retail operations.