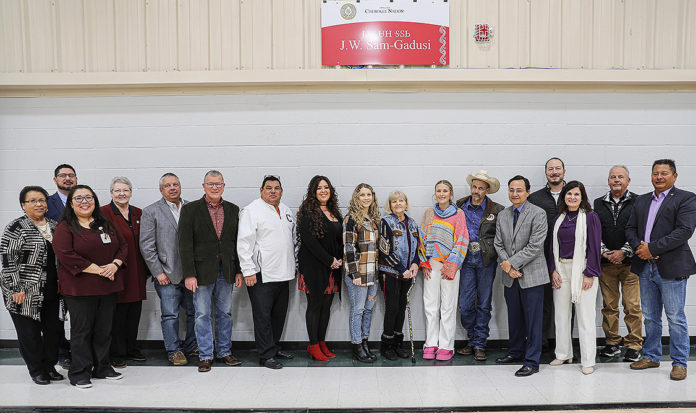 CATOOSA, OK – The Cherokee Nation officially dedicated its J.W. Sam-Gadusi building in Catoosa last week. The facility will house satellite offices for Cherokee Nation Career Services and Cherokee Nation Human Services and will be used by the local Cherokee community group as well.
Cherokee Nation leaders gathered with tribal employees and family members of the late J.W. Sam, for whom the building is named, to unveil the building's official name and signage. Sam was a longtime Catoosa educator and administrator and a Cherokee citizen.
"We believe the renewed purpose for this former elementary school building will also renew and extend the legacy of Mr. Sam," said Cherokee Nation Principal Chief Chuck Hoskin Jr. "We want to ensure that we find new opportunities to provide services to all of our citizens. This building is going to serve the Cherokee people in ways that they need to be served, and with Career Services and Human Services coupled together, it can represent such tremendous growth and opportunity for our tribe."
The Catoosa facility will help serve more citizens in the Rogers and Tulsa County areas providing a sort of one-stop-shop for their Career Services and Human Services needs.
"I know a lot of prayer, preparation, and patience has got us to this point," said Deputy Chief Bryan Warner. "There is a spirit of unity here at the J.W. Sam-Gadusi Building and I know this renewed facility is going to serve its community well for many more years to come."
When the facility opens to Cherokee citizens in 2023, Career and Human Services will be housed within the building. Career Services will be offering programs for families such as GED training and testing, tribal training services, the dislocated workers program, TANF, and other federal programs. Human Services will also be offering programs such as family assistance, elder services, childcare and development, child support, Indian child welfare, youth services, and special programs to tribal citizens who qualify.
The J.W. Sam-Gadusi Building will also be home to the Cherokee Community of Catoosa (CCC), a local non-profit organization. CCC plans to develop various community and cultural programs in the facility under an agreement with Cherokee Nation. In 2021, while the facility was undergoing extensive remodeling, the Council approved legislation sponsored by Councilors Joe Deere, Keith Austin and Janees Taylor to name the facility in Sam's honor.
"Mr. Sam believed in education, in the importance of our children to our collective future, and in this community's well-being," said Councilor Deere.