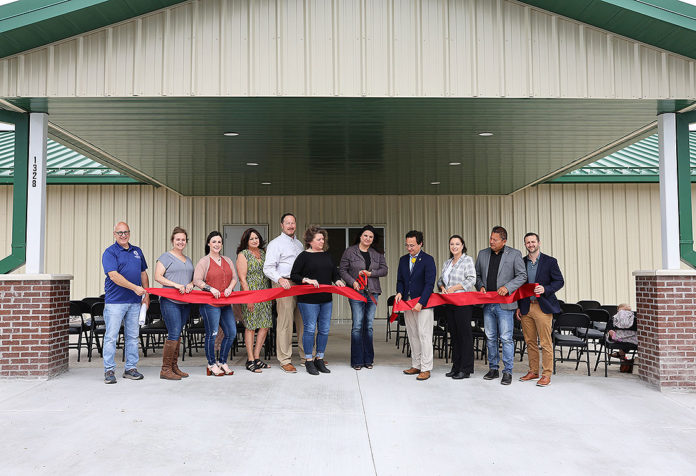 KANSAS, OK – Leaders from the Cherokee Nation and Kansas Cherokee Community Organization (KCCO) gathered recently to cut the ribbon on a new community building in Kansas, OK.
The building was constructed through the Cherokee Nation Respond, Recover and Rebuild COVID-19 plan with an investment of approximately $2 million that covered the building, parking lot and a nearby helipad to assist community first responders.
"For many Cherokees, their greatest source of connection to our tribe is through local Cherokee community organizations and this building is going to be so vital to the Kansas community," said Principal Chief Chuck Hoskin Jr. "The Cherokee Nation is dedicated to supporting grassroots and the hard work of community groups like the Kansas Cherokee Community Organization. This building and the hard work of the organization and community members will help serve this area for many years to come."
The new building is approximately 4,000 sq. ft. The project also included substantial infrastructure improvements to the property, which will support future building expansion and overall growth of the site. The new community building, located at 1328 E. Tulsa Ave., is adjacent to property owned by the Town of Kansas, which will be developed into a new local police headquarters.
"There is a long-standing desire among Cherokee communities to work together in the spirit of 'gadugi' to preserve our culture, teach our history and serve needs at the local level," said Deputy Chief Bryan Warner. "The Cherokee Nation is truly blessed to have so many groups like the Kansas Cherokee Community helping us to stay connected and creating places where we can fellowship together."
The Kansas Cherokee Community Organization was organized recently with the assistance of District 9 Councilor and Speaker of the Council Mike Shambaugh.
"Community centers like this are important hubs for our Cherokee communities," said Councilor Shambaugh. "This new building is going to serve the Kansas community for many years and make a difference at the local level and in Cherokee citizens' day-to-day lives. The group here in Kansas has already done an incredible amount to help their community. I'm very proud of the progress that has been made here."
The Cherokee Nation is also considering co-locating a public health staff member at the facility to serve area Cherokee citizens in the future.
"It is with great pleasure we celebrate this milestone event," said Brittney Mason, Kansas Cherokee Community Organization President. "KCCO and Cherokee Nation representatives together have created a community space that will enhance and celebrate the rich history of Cherokee Nation with the continuation of our traditions for future generations. We would like to thank Cherokee Nation for providing this facility. KCCO and the Kansas community are grateful to have this facility in Southern Delaware County, where we may provide community gatherings, meetings, information sharing and cultural outreach."