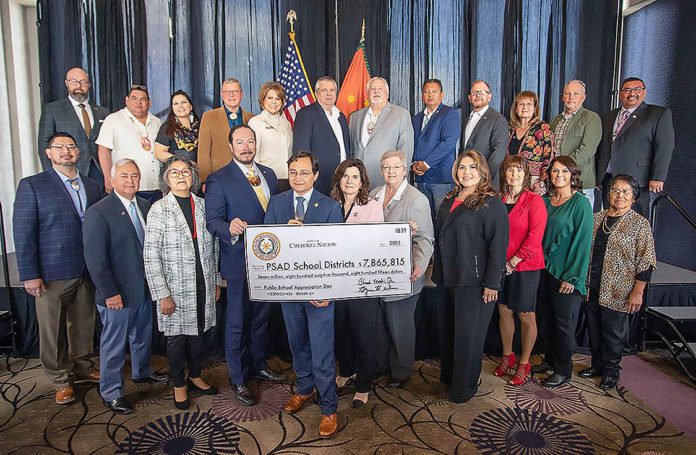 TAHLEQUAH, OK – The Cherokee Nation is contributing $7.8 million to 109 school districts as part of the tribe's annual Public School Appreciation Day initiative. This year's disbursement is the largest since the tribe began its annual contributions in 2002.
Aside from the millions of dollars the Cherokee Nation provides to the State of Oklahoma for education funding each year through gaming, the Cherokee Nation also allocates 38 percent of its annual car tag revenue directly to education.
"I am incredibly proud of the Cherokee Nation's longstanding partnerships with school districts in Northeast Oklahoma," said Cherokee Nation Principal Chief Chuck Hoskin Jr. "These investments in public education each year show that we are all in it together. This year, the Cherokee Nation is again setting a record by contributing more than $7.8 million to 109 school districts. This is also the second consecutive year the contribution has eclipsed $7.4 million. In total, our tribe has provided more than $84 million to public education since 2002 through the sale of tribal car tags. This initiative continues to help strengthen and better the educational opportunities for our children across the reservation, and we at the Cherokee Nation know how vitally important that is."
School superintendents from across Northeast Oklahoma gathered at Hard Rock Hotel & Casino for a luncheon and received their schools' checks from the tribe.
"It is an honor each year when we are able to gather with school administrators, teachers and everyone who plays vital roles in helping guide our young people while they are in the school system," said Cherokee Nation Deputy Chief Bryan Warner. "From talking with these educators, I know that their ultimate goal is to light that fire for students and create within them a passion and a desire to succeed. When our tribe contributes this funding each year, we're helping educators in more than 100 school districts fulfill that mission."
Each school district makes the decision on how to use the funding provided by the Cherokee Nation. In past years, schools have used the funds to cover teacher salaries, upgrade facilities, support operations, expand technology and bolster school programs. In the last three years, many schools used previous contributions to help respond and recover from the impacts of COVID-19.
In recent years, Tulsa Public Schools has used its funds contributed by the Cherokee Nation for various educational field trips, including trips to the Oklahoma State Capitol on Native American Day, the National UNITY Conference each summer in Washington, D.C., and the First American Museum in Oklahoma City. The money is also used to support Indigenous clubs throughout the district as well as its Native American Youth Board.
"We are so incredibly grateful to the Cherokee Nation for the funds that we receive," said Tulsa Public Schools Superintendent Deborah Gist said. "It is such a blessing to us, and it gives us many, many different things for our students and our team members who serve them … These contributions give our students the ability to get out and be a part of important activities that are culturally enriching, that are enjoyable and give them a chance to meet others and learn from each other."
In Vian, school leaders used Cherokee Nation funds to implement a cultural class for students in kindergarten through 12th grade.
"We make sure that our program touches every kid to make sure that our students learn how important our Cherokee culture and our Cherokee language is," said Victor Salcedo, Vian Superintendent. "We also buy supplies for basket weaving and stickball and have a stickball field for the kids to participate in. We just try to make sure that we subject our kids to the culture that's so important in our Cherokee Nation."
The money allocated to school districts is based on the number of Cherokee Nation citizens that have enrolled. However, the funding benefits all students in each school district.
"The support of Cherokee citizens and the hard work of our Cherokee Nation Tax Commission staff have once again helped us make a record-breaking contribution," said Cherokee Nation Tax Commission Administrator Sharon Swepston. "Each year, the Tax Commission is proud to play a role in helping schools throughout Northeast Oklahoma leave positive and lasting impacts on their students and communities."
The Cherokee Nation also recognized Darlene Littledeer from Grand View as its first Teacher of the Year. Twelve other educators were also honored.
Funding totals by county include the following:
Adair County – $592,974
Cherokee County – $1,037,940
Craig County – $192,740
Delaware County – $568,852
Mayes County – $612,412
Muskogee County – $753,162
Ottawa County – $134,894
Nowata County – $113,817
Rogers County – $793, 677
Sequoyah County – $694,614
Tulsa County – $1,770,025
Wagoner County – $269,555
Washington County – $331,147