NOWATA, OK – Cherokee Nation is contributing $1 million to help the city of Nowata provide its community with cleaner, safer drinking water by helping fund a new Water System Improvements Plan.
The plan, in part, calls for a new water storage tank for the city and was part of an agreement signed by Principal Chief Chuck Hoskin Jr. and city leaders recently.
"The Cherokee Nation has dedicated millions in funding for water projects across the Cherokee Nation Reservation and ensuring both Cherokee citizens and our non-Native neighbors alike have safe, quality water systems, including the latest project here in Nowata," said Chief Hoskin. "We are proud to partner with Nowata for safer and cleaner water access, which will make a lasting and generational impact."
Nowata is preparing an engineering report to identify locations for a new water storage tank to replace the aging water system and address the long-term solution of water storage needs.
"Cherokee Nation and local communities often work together for a better tomorrow and this project in the Nowata community is another significant example of the progress we make and the lives we change by being good friends and neighbors," said District 12 Councilor Dora Patzkowski.
The city may also identify additional improvements that are needed in the distribution system such as water line replacement, additional valves or automated metering systems. If those are needed and the budget allows, they may also be included in the project.
"I'm very appreciative to the Cherokee Nation and to the Chief for his participation; it allowed us to partner and get this infrastructure," said Nowata Mayor Dean Bridges. "It's another great project that we did and it helped the county and the Cherokee Nation Reservation."
Cherokee Nation will provide the project survey, geotechnical investigation, final design, construction administration, inspection, materials, and construction.
"This will benefit the community the best by water quality, economically and expense-wise," said Nowata City Public Works Director Roger Smith. "It will be a lot cheaper to operate because we got a pump system now that will keep pressure on the lines and it will get rid of an early 1900's main gallon reservoir that's way past its prime. There will be good quality water for the citizens in the surrounding community."
Smith said the project will benefit approximately 4,000 customers. The Cherokee Nation is using American Rescue Plan Act dollars and anticipates the engineering and permitting to be completed by the end of 2022 with construction starting in 2023 and wrapping up in 2025. Addition tribal contributions will come from the Wilma P. Mankiller and Charlie Soap Water Act signed by Chief Hoskin in 2021 to address water quality concerns around the Cherokee Nation Reservation.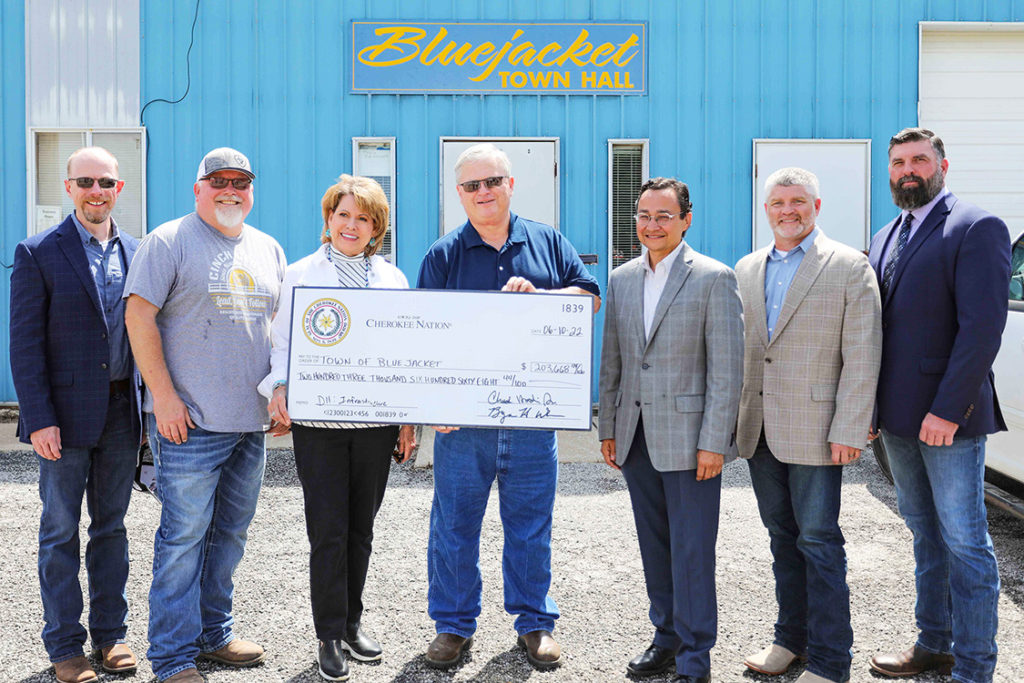 Ahead of the recent visit to Nowata, Chief Hoskin also joined Council of the Cherokee Nation Deputy Speaker Victoria Vazquez in the Bluejacket community. Councilor Vazquez contributed $203,668 from Council Special Projects funds to the Town of Bluejacket to assist with wastewater improvements and the installation of a chlorination system.
"Working with Chief Hoskin's administration and the Bluejacket community to improve water quality is a great example of how we can all work together to accomplish important projects that impact so many Cherokee citizens," said Councilor Vazquez.
The project impacts around 1,000 community residents.
"The Cherokee Nation has always been there when we needed something," said Morris Bluejacket, Bluejacket Town Councilor and Sewer Project Manager. "We are greatly appreciative of them now. There are about 140 households, but we've got several households that have five or six people living there so it affects close to a thousand people."