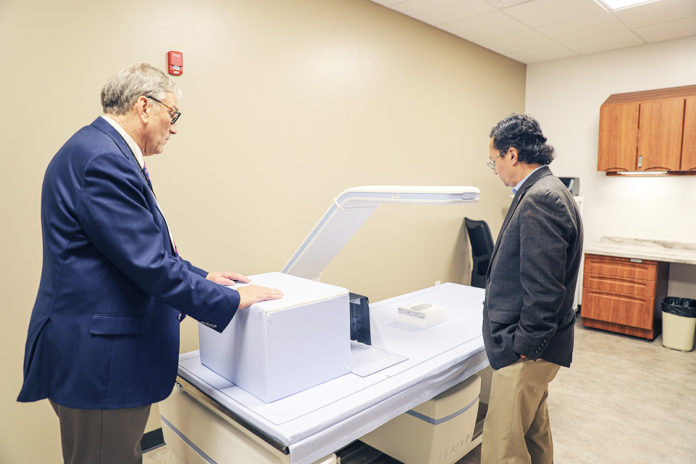 TAHLEQUAH, OK – Cherokee Nation leaders recently toured four of the tribe's outpatient health centers where a total investment of $15 million is providing new patient services and expanding existing services and space within the facilities.
The four capital improvement projects were completed as part of the tribe's COVID-19 Respond, Recover and Rebuild plan. The expansions occurred at Three Rivers Health Center in Muskogee, Will Rogers Health Center in Nowata, Cooweescoowee Health Center in Ochelata, and the Vinita Health Center. The projects ensure each health center has the equipment and space needed to monitor patients previously diagnosed with COVID-19, while also providing room for staff and patients to practice social distancing.
"The purpose of these four projects was to, not only give support to our health system as they serve a growing number of patients each year, but to positively impact the communities and patients who utilize Cherokee Nation Health Services," said Cherokee Nation Principal Chief Chuck Hoskin Jr. "Expanding access to care for Cherokee citizens is always a priority and we strive to be good community partners by growing local economies across the reservation. Projects like these are important to both patients and to providers. Expanding services makes for more accessible and more efficient health care."
Chief Hoskin and Chief of Staff Corey Bunch recently met with District 11 Councilor Victoria Vazquez and District 12 Councilor Dora Patzkowski to tour projects in Nowata, Ochelata and Vinita, and met with District 4 Councilor Mike Dobbins to tour the Three Rivers Health Center expansion in Muskogee. Cherokee Nation Health Services staff helped lead the tours and gave updates for each project.
The Vinita Health Center project expanded the existing radiology department with a 600 sq. ft. remodel to add CT services through a $1.5 million investment. It also added two new positions to the health center.
"It's a game changer for our Vinita Health Center patients to have access to CT scanning and receive results quickly and sometimes on the same day," said Councilor Vazquez. "I can remember a time when health services in Vinita were provided in a mobile unit and then expanded to a storefront. Now we have this beautiful facility and the resources to continue serving more patients than ever before. I'm thankful to our administration who ensures that projects like this are possible and I'm excited for the increased level of care the Cherokees in my district will receive."
The Will Rogers Health Center expansion in Nowata added 18 new staff positions, dental services and additional space for optometry services. The $6.1 million investment and 7,600 sq. ft. expansion has allowed for the addition of eight dental exams, five optical exams, two optical treatment spaces, a full-size optometry dispensary and other necessary space to facilitate patient and staff needs.
The Cooweescoowee Health Center construction project in Ochelata provides additional space for primary care, laboratory, and dental services. This $4.2 million investment and 4,600 sq. ft. expansion has increased space in the facility's laboratory for a new chemistry analyzer to bring more testing in-house, has provided three additional dental exams with increased space in the dental lab, six new primary care exams, one additional isolation room, and an additional pod for a primary care team staff. The project has added nine new positions with four additional staff offices and additional storage for supplies.
"The expansions in Nowata and Ochelata are already allowing our Health Services staff to better serve their patients," said Councilor Patzkowski. "When we make services available system-wide, we decrease the travel time for patients to access very important health care and do a great service to our Cherokee citizens and those who care for them in the health centers."
The $3 million investment and 2,650 sq. ft. expansion at Three Rivers Health Center in Muskogee has allowed all radiology services to be housed in one space. Service lines added to the health center include CT, Dexa scanning for bone density, relocation of ultrasound services to better accommodate workflow and free up office space in other areas, and an additional changing room to increase efficiencies with mammography services. The expansion has added two new staff positions.
"The addition of CT services at Three Rivers Health Center has allowed for patients in this community to receive these services closer to home," said Councilor Dobbins. "I'm extremely proud of the work our health system is doing to increase access to care across the reservation and I'm grateful to our administration for supporting this growth."
Cherokee Nation is also investing over $435 million into other health care capital improvement projects, including the planned construction of a new $400 million hospital in Tahlequah to replace the tribe's existing W.W. Hastings Hospital.
Cherokee Nation Health Services is the largest tribally operated health care system in the United States with nine outpatient health facilities throughout the Cherokee Nation Reservation, as well as the W.W. Hastings Hospital in Tahlequah.