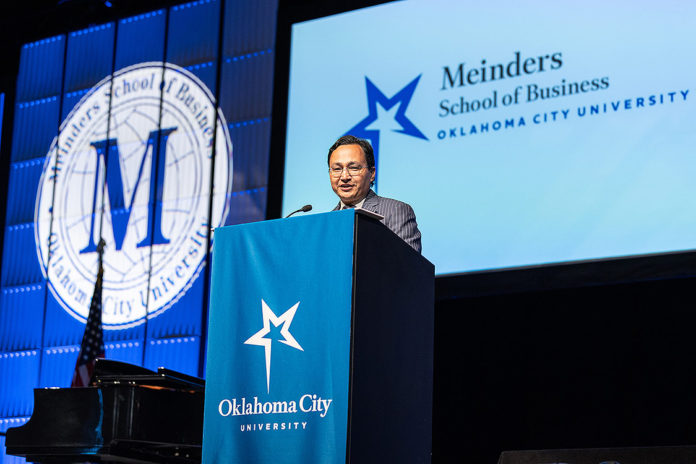 OKLAHOMA CITY, OK – Cherokee Nation Principal Chief Chuck Hoskin Jr. has been inducted into the Oklahoma Commerce and Industry Hall of Honor and received the Outstanding Achievement Award during the organization's 37th annual Hall of Honor ceremony at the Oklahoma City Convention Center.
Oklahoma City University (OCU) established the Oklahoma Commerce and Industry Hall of Honor to recognize businesses and community leaders who have made significant contributions to the growth and development of Oklahoma and the Southwest.
"I am extremely honored to be selected as an inductee for the Oklahoma Commerce and Industry Hall of Honor," said Chief Hoskin. "Just seeing the names of past inductees and those being inducted with me today is incredibly humbling, and it is an honor that I will not take for granted. I also think it is important to note that this honor was only possible because of the great people I work with at the Cherokee Nation. It's the spirit of gadugi, the Cherokee belief in the power of working together, that enables Cherokees to continue to lift up each other."
Chief Hoskin, who serves the largest tribe in the U.S. with more than 460,000 citizens, previously served on the Council of the Cherokee Nation and as Secretary of State for Cherokee Nation before he was elected as Principal Chief in 2019 and re-elected in 2023.
As Principal Chief, Hoskin increased minimum wage at Cherokee Nation and Cherokee Nation Businesses, and secured the largest language investment in the tribe's history to expand Cherokee cultural preservation. He appointed Kim Teehee as the tribe's first Delegate to the U.S. Congress and prioritized health and wellness initiatives, including record investments in behavioral health and addiction treatment. Chief Hoskin has also expanded tribal workforce training programs, sustainable housing, protections for natural resources, and educational opportunities for Cherokees of all ages.
"With Chief Hoskin at the helm, the Cherokee Nation citizens are fully dedicated to the celebration of their traditions," said Kenneth Evans, OCU President. "I am grateful to know Chief Hoskin and proud that he is now a member of OCU's Hall of Honor. I look forward to continuing the close and productive relationship with the Cherokee Nation and Chief Hoskin."
Joining Chief Hoskin in the 2023 Hall of Honor induction class were Lifetime Achievement Awardees Clay and Louise Bennett, as well as Outstanding Achievement Awardee Kristin Chenoweth.
The Hall of Honor is housed in the Meinders School of Business at OCU. Financial support for the Oklahoma Commerce and Industry Hall of Honor provides scholarships for students of the Meinders School of Business.