KENWOOD, OK – Until now, Cherokee citizens in the community of Kenwood had to drive more than 10 miles to get mobile cell service. This month, a new cell tower built by Cherokee Nation in collaboration with AT&T* expands the AT&T 5G network giving the 1,000-member population fast, reliable and secure connectivity.
It's also helping to improve overall public safety by providing Cherokee Nation first responders truly dedicated coverage and capacity when they need it on FirstNet® – America's public safety network.
COVID-19 highlighted the critical connectivity needs for the community, which includes Cherokee speakers. Reliable internet is needed to access tribal services, health care, emergency services, education and Cherokee language services. With federal funding from the American Rescue Plan, the Cherokee Nation approached AT&T to provide solutions to help close the digital divide and expand connectivity to its citizens.
"The Kenwood community is rural, but together Cherokee Nation and AT&T came to the table with a plan and a solution," said Cherokee Nation Principal Chief Chuck Hoskin Jr. "Over the past year, we have formed a strong working relationship and I'm proud to say this community is not forgotten. For the first time, citizens here have access to wireless service and more high-speed internet to access the vital resources they need."
The 355-ft. tall tower was the focal point during a celebration in Kenwood where Chief Hoskin called AT&T executive Chris Sambar, Head of Network, AT&T, from the event to show the community that they are officially connected with high-quality wireless service for the first time.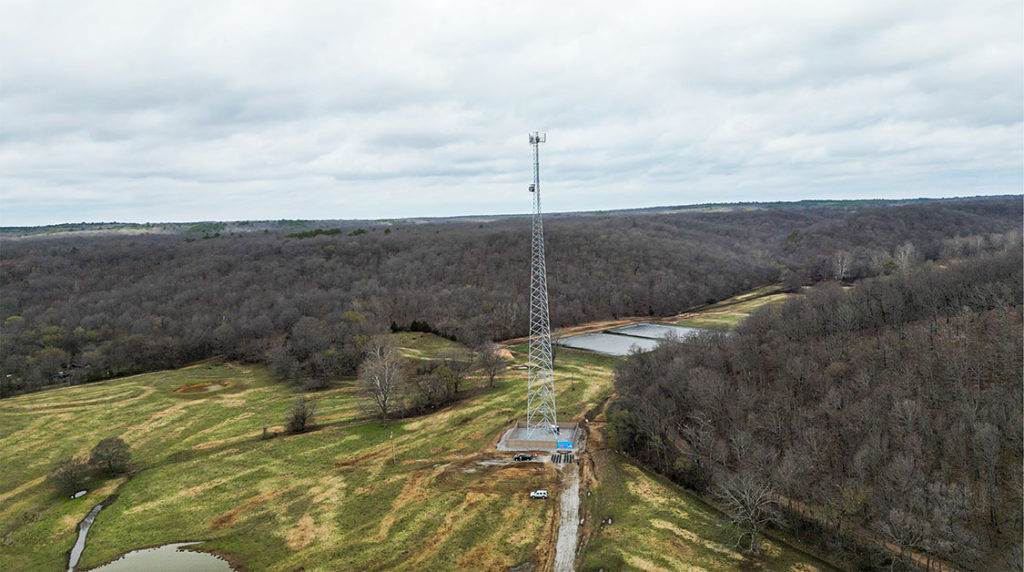 "We are proud to be working with the Cherokee Nation to expand our broadband network so more Cherokee citizens have access to high-quality connectivity with AT&T 5G," said Sambar. "Our purpose is to connect people to greater possibility, and this new cell tower will open doors for Kenwood residents by providing access to education, health care, employment opportunities and so much more."
Cherokee Nation Deputy Chief Bryan Warner said he hopes the cell tower off School Road will be a model for other Cherokee communities within the Cherokee Nation Reservation.
"Some of our citizens have gone without adequate internet and wireless service, but Cherokee Nation is changing that," said Deputy Chief Warner. "Working with AT&T, we laid a framework of possibility to connect more of our communities that aren't connected today."
This project came to be in 2020, when communities were isolated and needed to work, attend school and access services from home. The Cherokee Nation pinpointed a need that many tribal communities, not only had barriers to reliable internet, but also access to a high-quality mobile network.
With the help of AT&T, the Cherokee Nation issued more than 11,000 mobile hotspot devices that were primarily used for virtual learning and telemedicine visits. Citizens were also able to apply for COVID response services, which were vital during the pandemic. From there, the conversation shifted to the need for a more permanent solution.
"What was important at the time, was that AT&T was willing to sit down and listen to the needs the Cherokee Nation had, which was, 'How do we fix cell service in rural communities?'" said Council of the Cherokee Nation Speaker Mike Shambaugh. "Together, we looked at this as a joint effort and here we are, celebrating the completion."