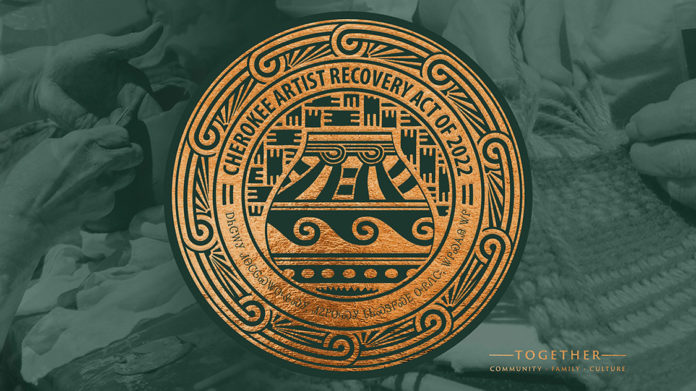 TAHLEQUAH, OK – Cherokee Nation Principal Chief Chuck Hoskin Jr. and Deputy Chief Bryan Warner have proposed the Cherokee Artist Recovery Act of 2022 to address the adverse economic impact of the COVID-19 pandemic on Cherokee artists by purchasing their art and providing opportunities for artists to teach others over the next two years. The proposal, if approved by the Council of the Cherokee Nation, will set aside $3 million to support Cherokee artists through the end of fiscal year 2024.
"Cherokee artists have faced some difficult years," said Chief Hoskin. "But, the Cherokee Artist Recovery Act of 2022 will provide more opportunities for our artists to sell their art, teach their craft, and continue to perpetuate the Cherokee culture and lifeways all across our country. Cherokee leaders all take an oath to 'promote the culture, heritage and traditions of the Cherokee Nation,' and investing an additional $3 million toward this effort will help us combat the negative impact the pandemic has had on our beloved Cherokee artists."
Chief Hoskin first announced his plan to propose the legislation during his State of the Nation Address at the 70th annual Cherokee National Holiday.

"With Council's approval, the Artist Recovery Act that Chief Hoskin and I are proposing will encourage Cherokee Nation and Cherokee Nation Businesses to spend no less than $1.5 million over the next two years purchasing art from Cherokee artists," said Deputy Chief Warner. "This Act also will provide economic assistance to Cherokee artists so they can access commercial art markets, teach their art forms, and develop and administer special youth programs, outreach programs and competitions. This will be an amazing opportunity to not just help our Cherokee artists, but to create new avenues for others to learn traditional art forms and help to carry on those traditions for future generations."
The Act also establishes the Cherokee Artist Resource Collection, a comprehensive database of Cherokee Nation artists. A portion of the funds under the Act can also be used for the rehabilitation or construction of facilities such as art galleries and teaching spaces. Artists selling their art or participating in programs under the Act must be citizens of the Cherokee Nation. Preference will be given to Cherokee artists who have been designated as Cherokee National Treasures by the Cherokee Nation.
"The Cherokee Artist Recovery Act proposed by Chief Hoskin and Deputy Chief Warner is a fantastic program for our Cherokee artists," said Deputy Speaker of the Council Victoria Vazquez, a lead sponsor of the Act and a Cherokee National Treasure. "Our culture is so deeply rooted in our history, and Cherokee art reflects that culture. Promoting Cherokee artists has always been a top priority for me as a Councilor."
The Council will consider the measure at its Sept. 29 Rules Committee meeting. If the Artist Recovery Act is approved by the Council during its Oct. 11 regular monthly meeting, the Act's funding through 2024 for Cherokee artists will be in addition to the annual funds expended by the tribe through its Cherokee Art and Facilities Act, which was signed into law more than a decade ago and requires one percent of the total construction or rehabilitation budget for Cherokee Nation facilities and properties to be used for artwork that is culturally and historically appropriate and created by Cherokee Nation citizens.