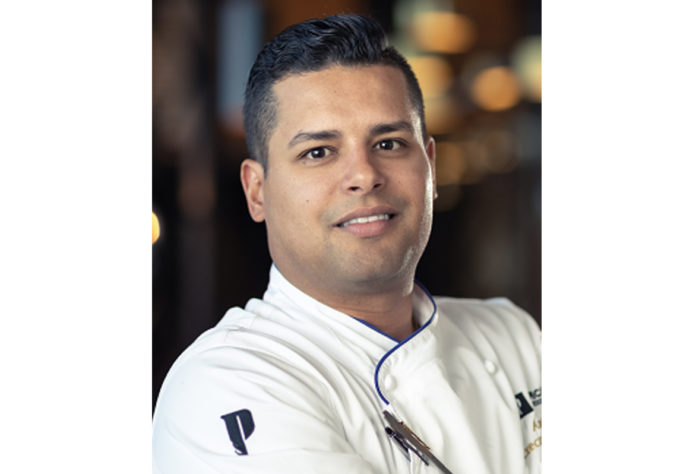 TEMECULA, CA – Pechanga Resort Casino has announced the promotion of its Executive Sous Chef to the role of Executive Chef. One of a series of advancements in his career at Pechanga within the food and beverage department, the new promotion places him at the helm of culinary operations at the property. In this role, he will oversee 12 restaurants, an in-house bakery with 22 team members, banquet kitchens and staff and the stewarding department totaling approximately 121 employees under his direction. He will also continue to ensure all ingredients and every dish served to guests is of the highest quality, as well as staying ahead of culinary, dining and resort industry trends.
Pinto joined the Pechanga team in 2014 after nearly a decade of honing his skills and forging his reputation as a culinary innovator with the management skills to successfully lead a kitchen team. Starting as the kitchen supervisor of Kelsey's, an upscale American pub, Pinto quickly established his place at Pechanga Resort Casino. Pinto's technical and creative passion for food, along with his culinary management abilities, led to his installment as Head Chef at Paisano's Italian restaurant within Pechanga. Chef Andre successfully showcased his ability to create a top-notch culinary experience for guests as well as a positive and creative environment for his staff.
Fully immersed at Pechanga Resort Casino, Pinto time and time again proved his capability and excellence in both technical and managerial pursuits. After a successful run as Head Chef at Paisano's, Pinto was promoted to Head Chef of the Great Oak Steakhouse, Pechanga's AAA Four-Diamond and Wine Spectator awarded restaurant, in 2018. Pinto's fruitful time at the Great Oak Steakhouse, leading the culinary team and providing delicious and innovative menus, demonstrated his excellence as a both a chef and team leader.
Pinto's growth and career at Pechanga has prepared him well for his new role as Executive Chef. "Coming to Pechanga as a Sous Chef, moving on to a Head Room Chef, then to Executive Sous Chef and now to the Executive Chef position, my journey has taught me to never forget where I started and where I come from," said Pinto. "I will always be humble and will never forget the lessons I've learned from amazing cooks and chefs along the way. Moving forward, it's my goal to always anticipate guests' expectations and have pride in the creations I help my team put the Pechanga name on."
Pechanga Resort Casino is home to 12 restaurants. Showcasing many styes of food, including Chinese, Thai, Italian, Japanese, Mexican and gastropub, Pechanga Resort Casino's dining options offer ample guest choice. Pechanga also features spacious event and catering spaces, as well as an ambitious in-house bakery whose team produces desserts and pastries daily.