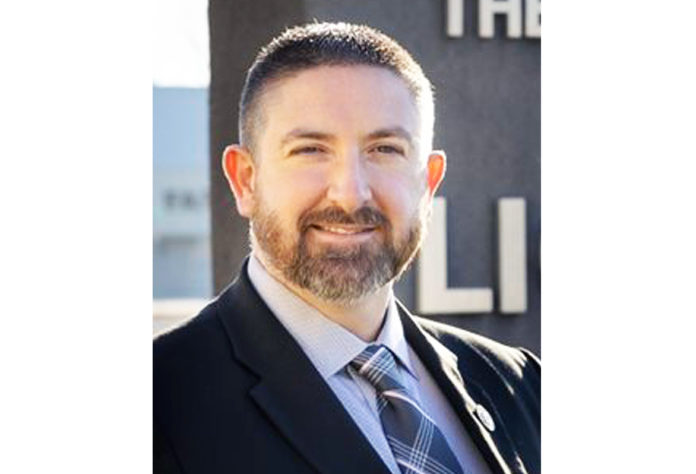 ADA, OK – Chickasaw Nation Governor Bill Anoatubby appointed Charles Christopher Palmer as Chief of Police for the Chickasaw Lighthorse Police Department, filling the leadership vacancy created by Chief Michael K. Manning's recent retirement.
"Chief Palmer has the education, training, and experience needed to continue the record of effective leadership of the Chickasaw Lighthorse Police," said Governor Anoatubby. "During his career he has served in a variety of roles, allowing him to gain keen insight into the history, operations, and goals of the department. He is well prepared to lead the department as it works to protect public safety, enhance individual security and effectively administer justice."
Palmer's 17-year career in law enforcement began in October 2005, a year after the department itself was reestablished in the modern era.
"I told Governor Anoatubby I was a 22-year-old kid when I started with this department, so the Chickasaw Nation is the only thing I've ever known," said Palmer. "As this department has grown, I've grown. I've matured with this department and with the Chickasaw Nation."
In 2005, Palmer was a college student working in a convenience store to pay school expenses when the direction of his life took a leap forward toward the goal he always had in mind. Jason O'Neil, then Lighthorse police chief, walked in and suggested he apply for an open position on the force.
"I knew I always wanted to get into law enforcement but didn't really know where I was going to start," said Palmer. "No one had really heard of the Chickasaw Lighthorse Police Department and I didn't know what it was, but just by God's timing I was able to get on with the department."
Palmer is a graduate of the Federal Law Enforcement Training Center, Indian Police Academy, and maintains an Advanced Law Enforcement Certification from the Oklahoma Council on Law Enforcement Education and Training. He earned a Bachelor of Arts degree with a major in criminal justice as well as a master's in human resources from East Central University. He expects to complete his doctorate in education with a concentration in organizational leadership and conflict resolution in 2025.
Palmer's 17 years have provided a wide array of law enforcement experiences. After years as a patrolman, he became a K-9 handler before taking advantage of an opportunity to transition to a child support investigator.
"One of the functions of that job was investigating locations of individuals," said Palmer. "It really honed my investigative skills in tracking individuals down, which helped when I transferred to our criminal investigations division in 2013."
Years later, yet another new opportunity opened with the creation of Lighthorse's Professional Standards Division. There, he was charged with the responsibility of ensuring all policies and procedures were followed and training requirements were met, in addition to overseeing internal affairs investigations.
"I spent about a year-and-a-half in that role and was then promoted to captain over our investigation division where I supervised the caseload over our criminal investigators and their case management," said Palmer. "I also continued advising our training department and our evidence department as well."
In 2020, an administrative services division was created to better align the organization and ensure personnel in the field are fully equipped to carry out their duties.
"The public doesn't really know what goes on behind the scenes to make a department function," said Palmer. "[The job entailed] ensuring our officers had proper equipment and vehicles they could drive and that our communications center was up and operating efficiently. When I was transferred into that role, I assumed responsibility for, and took over, all behind-the-scenes functions, which included our evidence, property, fleet, records, training and communications division."
Palmer said, while he has goals for the department, previous leadership has already set the stage for continued success.
"The department is headed in a great direction," said Palmer. "It's one of those things where, stepping in to lead this department, I don't have to come in and make a bunch of changes because the organization is really in great shape. We have great leadership and have always had great leadership. That's one of the fortunate things about working for the Chickasaw Nation. They put great leaders in place, and I've had great leaders as mentors over the years. Just to name a few, Jason O'Neil, Mike McCoy, (current Lighthorse Police Commissioner) Randy Wesley, and Mike Manning, our previous chief, all have provided great mentorship for me over the years."