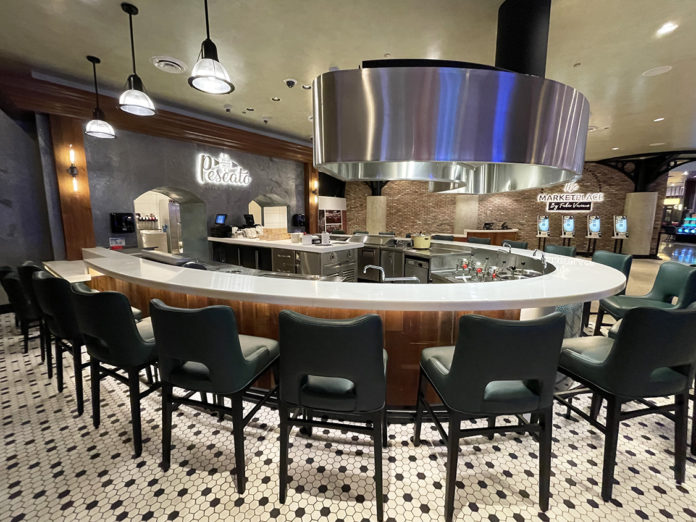 PALM SPRINGS, CA – Pescato, a seafood lovers oasis offering fresh catches from across the globe, is set to become the first dining venue created by celebrity chef Fabio Viviani at the Morongo Casino Resort & Spa near Palm Springs, CA. 
Located at the entrance to the highly-anticipated Marketplace by Fabio Viviani, Pescato officially opens on April 2 and will offer freshwater, world-class seafood dishes and luxurious oysters on the half shell to Morongo guests, as well as expansive cocktail menu. Pescato, in Italian, means "fresh fish caught by hand."
"Pescato is about quality first, not big commercial fishing with big nets," said Viviani. "Everything at Pescato is line-caught, fresh, and of course, undeniably delicious. Our vision for Pescato is built around this principle, and I am excited to start my culinary journey with Morongo."
Pescato's opening will come just a few weeks before Vivani's expansive Marketplace food hall is set to open. The Marketplace by Fabio Viviani will bring an international dining adventure to Morongo with six gourmet eateries spanning the globe and a specialty dessert spot.
"We are thrilled to welcome Pescato as the first venue from international restaurateur Fabio Vivani to open at Morongo, which will soon be followed by his incredible Marketplace food hall," said Richard St. Jean, Morongo's Chief Operating Officer. "Fabio is one of the world's greatest names in dining and restaurant innovation, and we are delighted to be collaborating with him to enhance our guest experience at Morongo."