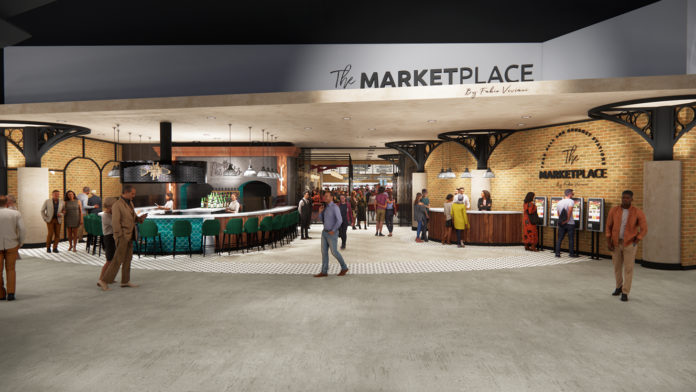 CABAZON, CA – Celebrity chef Fabio Viviani is bringing his passion for delicious food to the Morongo Casino Resort & Spa with The Marketplace by Fabio Viviani, a sprawling food hall scheduled to open in December at the resort.
Guests will enjoy seven gourmet eateries featuring dishes spanning the globe and a sweet spot for desserts. For a single fee, diners can taste delicious Italian fare at Mercato Centrale, or Mexican and South American fare at Al Comal. Pescato is a seafood lovers oasis featuring an oyster bar and a bounty of fresh selections from the sea. Pork & Waffles offers guests down-home BBQ and Southern comfort food while Prime Cuts will feature part steakhouse, part Brazilian Churrascaria. Pan Asian dishes will be featured at Sukiru, and diners can top off their meal with delicious deserts from Sweet Things. The new collection of eateries will fill the space where the Potrero Canyon Buffet once operated.
"I am over-the-moon to be bringing The Marketplace concept to Morongo where guests can enjoy authentic dishes from across the world, prepared with the freshest ingredients at one of seven gourmet restaurants that share a common space," said Viviani. "From baked clams to Korean BBQ to handcrafted pasta or an amazing steak, guests will be able to pick and choose dishes from their favorite places to build the ultimate feast. My partnership with Morongo is about our common goal to uncover exciting new ways to creatively heighten the dining experiences for Morongo's guests by providing a wide array of amazing dishes that people will enjoy."
Through the partnership with Fabio Viviani Hospitality, Morongo and the restaurateur will continue to bring exciting new culinary offerings to the resort.
"We are absolutely thrilled to be joining forces with the world-renown Fabio Viviani to bring the exciting new Marketplace dining experience to our guests," said Richard St. Jean, Morongo's Chief Operating Officer. "Fabio is one of the world's greatest names in dining and restaurant innovation, and we are delighted to be collaborating with him."