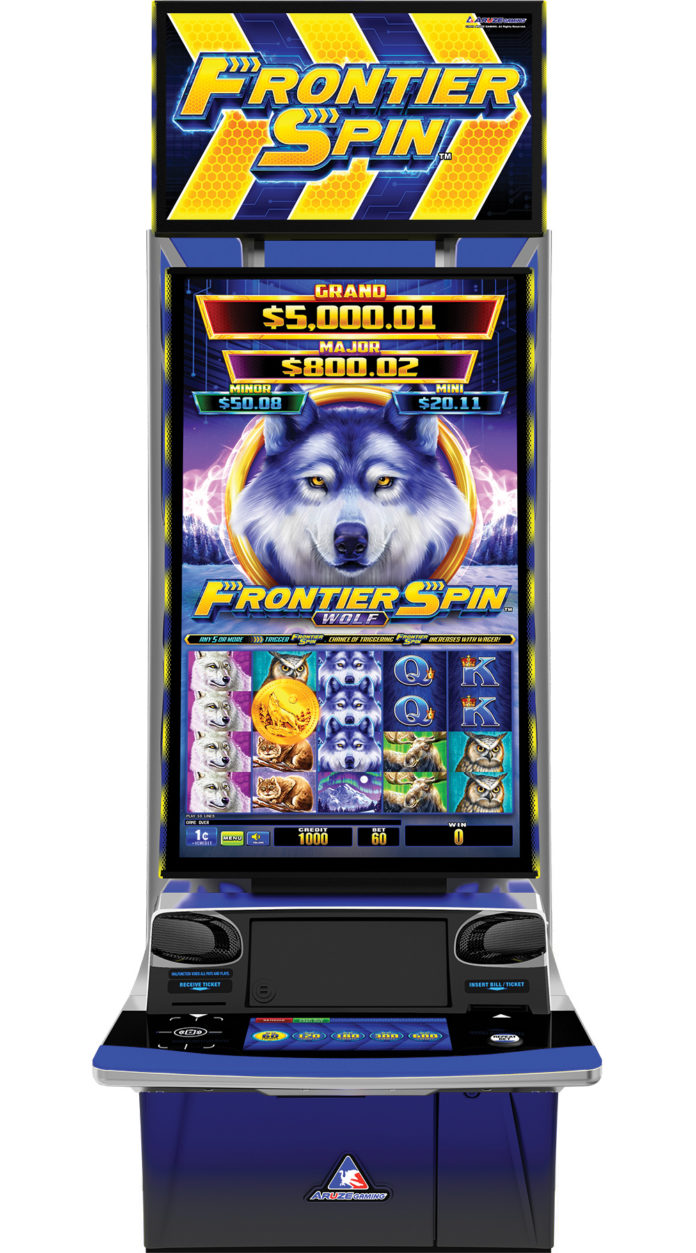 Aruze Gaming
Phone: (702) 361-3166
aruzegaming.com
Class III
FRONTIER SPIN™ WOLF
Visit the wild Frontier for powerful wins with Frontier Spin Wolf. Frontier Spin Bear, Frontier Spin Bull, Frontier Spin Stag, and Frontier Spin Wolf are all 5-reel, 50-line games available on the Muso™ Curve-43 and Muso Curve-43 Hybrid cabinets. When five or more overlays appear on screen, the Frontier Spin feature is triggered. The topper will scroll spin through the possible bonuses until a bonus is selected. Each bonus awards either a credit prize or a progressive jackpot.
Frontier Spin Wolf has up to 200 free games. When free games are triggered, each symbol that triggered the feature will have a number appear, awarding 1, 2, 3, 5, 7 or 10 free games. These are combined for what can be massive amounts for free games.
Each of the four Frontier Spin titles has a unique free games feature. Frontier Spin™ Stag allows players to select their level of volatility with up to 20 free games. Frontier Spin Bear has eight free games with a player selected mystery symbol added. Frontier Spin Bull has eight free games with extra top symbols added. Graphics that evoke the wild frontier are powered by a proven math package, creating a series sure to enthrall players.