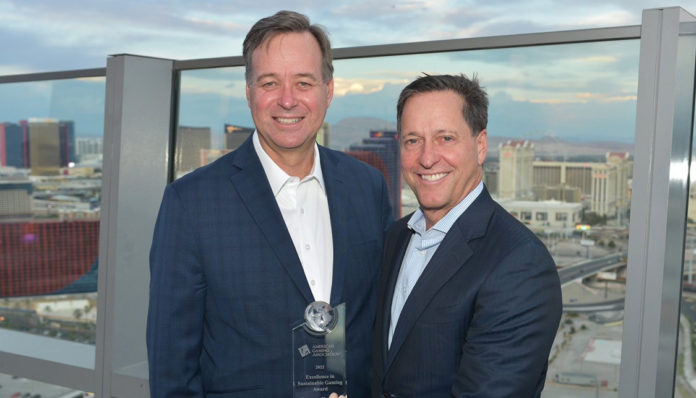 LAS VEGAS, NV – Trevor Croker, Chief Executive Officer and Managing Director of Aristocrat, was presented with the "Excellence in Sustainable Gaming" (ESG) award at the Global Gaming Expo (G2E) in Las Vegas. The award was presented by Bill Miller, President and Chief Executive Officer of the American Gaming Association (AGA).
"Trevor is the definition of a servant leader," said Miller. "He has made ESG commitments central to Aristocrat's global operations, and has pushed the industry to do the same. Trevor played an integral role in defining core ESG priorities for gaming and partnered with the AGA to conceptualize and publish the first-ever ESG in gaming report. This foundational effort initiated by Trevor will drive our industry's ESG commitments for years to come."
Additionally, Aristocrat Gaming won the recognition of land-based industry supplier of the year for the fourth consecutive year at the annual Global Gaming Awards, and won slot of the year for the fifth year in a row with the Wild Wild Buffalo™ slot game.
"We are thrilled to be recognized by industry peers for our investment in innovation, accelerating our ability to deliver the best products for our customers and partners," said Hector Fernandez, CEO of Aristocrat Gaming. "This success would not be possible without our valued employees, notably our design and development teams, who are the brilliant fuel behind our dynamic game portfolio."