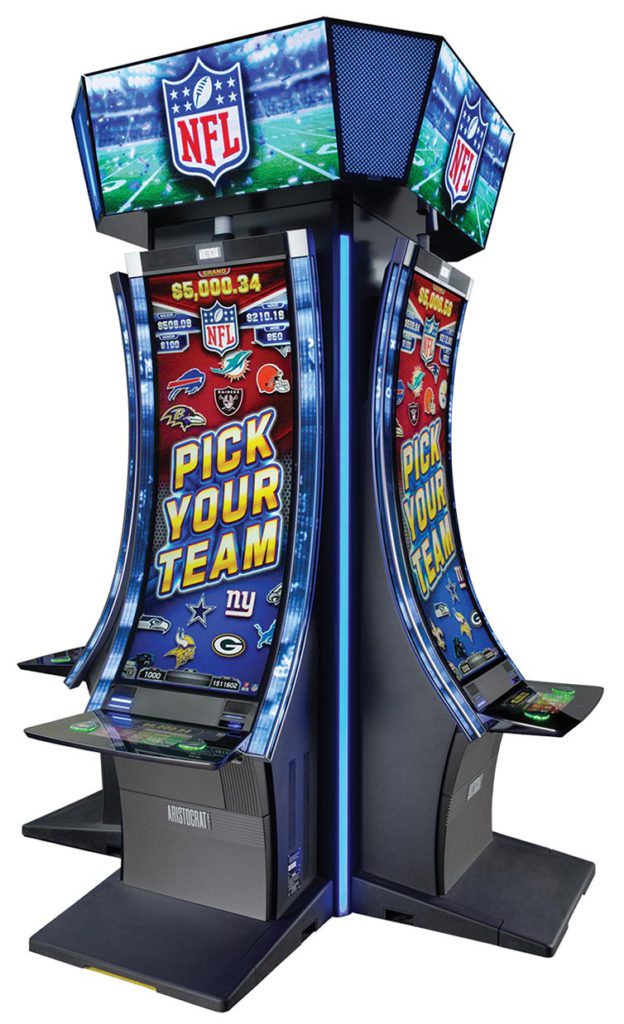 LAS VEGAS, NV – Aristocrat Gaming has debuted its much-awaited lineup of NFL-themed slot machines at the Global Gaming Expo (G2E) in Las Vegas. Following the recent rollout of the first game title, Super Bowl Jackpots™, G2E marks the world premiere of the entire launch portfolio.

"Our teams have worked diligently over the last few years to develop these games," said Hector Fernandez, CEO of Aristocrat Gaming. "The result is a lineup of games that match multiple player segments, bringing the excitement and energy of the NFL to new and existing slot players just in time for this year's football season."

Named the most anticipated premium brand per the Q1 2023 Eilers Operator Survey, the NFL slots provide a game-changing experience for the casino industry and NFL fans. The games offer entertaining and innovative mechanics across all six titles, including team marks, exciting bonus features, and customizable gameplay with the ability to pick your team and play your team as any of the 32 NFL teams.

"The NFL-licensed slot machines offer a unique opportunity for fans across the country to be engaged in a new way," said Terese Whitehead, Vice President of Consumer Products and Strategy of the NFL Players Association (NFLPA). "The NFLPA is pleased with the resulting games and looks forward to seeing the excitement in action."

This G2E, attendees will experience:
Super Bowl Jackpots™ (Class III): On the all-new King Max™ cabinet, the exciting features of Super Bowl Jackpots include a timed 2-Minute Drill, a $1 million jackpot, and other elements including a field goal kicking feature and the jackpot wheel.
Overtime Cash™ (Class III): On the all-new Marquis™ cabinet, this classic styled high-limit mechanical reel game has the excitement of a real football game, offering features tailored to NFL fans. Players have a chance for a losing spin to be "intercepted" into a winning one, a wheel with credit prizes, and the Overtime Cash feature played in four quarters.
Super Bowl Link™ (Class III): Players can take their team to the Super Bowl on this title with multiple ways to win including three levels of hold-and-spin features and wild card bonus.
NFL Kickoff™ (Class II): The first bespoke NFL licensed title for Class II is available on the Relm XL™ 5-reel and creates a bonus opportunity to get players to the red zone for a chance to score a touchdown.
Winning Drive™ (Class II): This title has six different features, each focusing on a different iconic element of football games including Championship Ring Hunt, Quarterback Pass, and player favorite Red Zone Spins.
Rings of Victory™ (Class II): The Relm XL™ 3-reel title for Class II, features Rings of Victory™ where three different bonus wheels that can be combined with Red Zone Spins for casino players' chance at huge wins including the grand progressive jackpot and credit prizes.