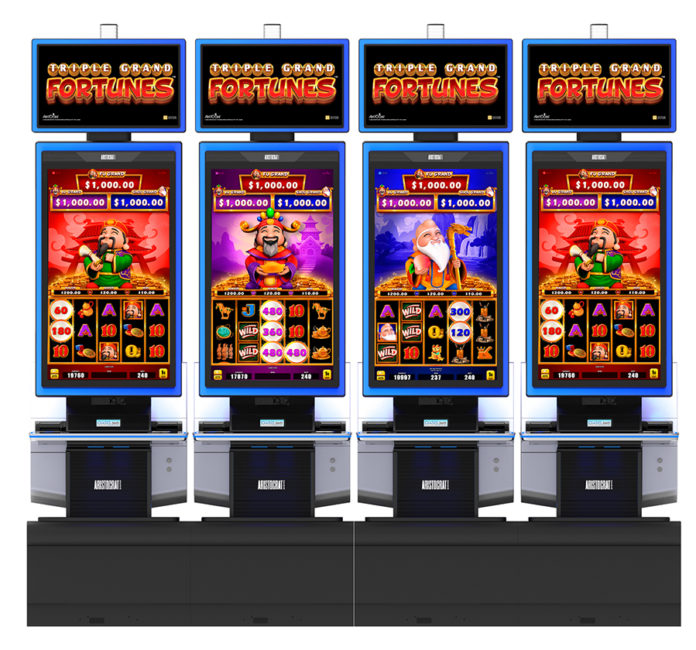 On Triple Grand Fortunes™, Aristocrat's hold and spin mechanic rises to new heights with true triple-up hold and spin action and a triple grand jackpot chase. Triple Grand Fortunes comes to the floor on the technologically advanced MarsX™ Portrait cabinet with three launch titles: Fu Grand™, Lu Grand™, and Shou Grand™. Each game has high volatility for core players, an average feature frequency, and group selectable denominations. Each game has unique, 3D, Asian-themed art.
The distinctive fun in this series is the Triple Grand Fortunes feature. Triple hold and spin is activated with six or more cash symbols on any spin. Three (3×5) matrices are played independently, and each new cash symbol resets remaining spins to three. One, two, or three different grand jackpots can be awarded when players fill in 1, 2 or 3 (3×5) matrices.
Three attainable SSP/SAP grand jackpots are always present on each game title, and the jackpots start at $1,000 in a penny configuration. Similar to Lightning Link™, the hold and spin and grand jackpot features are the same across each game title.
Each game theme offers its own special free games feature. Fu Grand's free games offer showers of wilds; Lu Grand's free games have 2x wilds; and Shou Grand's free games offer the fun of nudging wilds.
In each title, free games are triggered by three or more scatter symbols, and retriggers are available.