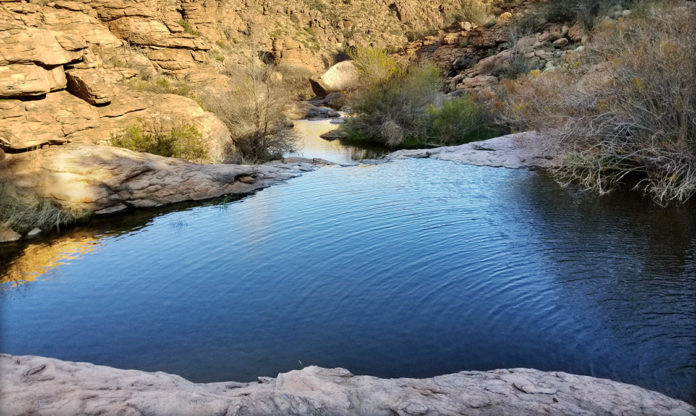 SAN CARLOS, AZ – The Apache Stronghold is traveling from the San Carlos Apache Reservation to the Ninth Circuit Court of Appeals in San Francisco for a rehearing in their case against the United States to protect Oak Flat.
The judges of the Ninth Circuit requested the hearing en banc, meaning it will hear the case in front of a full 11-judge court instead of the original three-judge panel, giving the Apache Stronghold a second chance to win protection for Oak Flat in the Ninth Circuit before the case goes to the Supreme Court. The request from the judges is rare as they call back fewer than 0.5 percent of the cases they hear. The hearing will allow the judges to determine whether the case will officially be pulled back into the Ninth Circuit.
Following private blessing ceremonies at Oak Flat and in Tucson, AZ, the caravan departed from the San Carlos Apache Reservation last week. Stops included Yuma, AZ, Malibu, CA, and the San Francisco Bay Area, where the members of the Apache Stronghold and their supporters met with members of tribes including the Quechan, Chumash, Ohlone, and Pomo for blessings and prayer on their journey.
"Oak Flat is the place we have connected with our Creator for millennia, and the generations that follow us deserve to continue this holy tradition," said Dr. Wendsler Nosie, Sr. of the Apache Stronghold. "We are glad the Ninth Circuit is going to take a closer look at this decision, and we hope it will do the right thing and protect our most sacred site at Oak Flat."
Western Apaches and other native tribes have worshipped on the land they call Chi'chil Bildagoteel since time immemorial. For decades, Oak Flat was protected by the federal government from mining and other practices that would destroy the hallowed Apache land. In 2014, the U.S. government allowed a mining company to plan to build a mine that will swallow the site in a nearly two-mile wide, 1,100-foot deep crater, ending Apache religious practices.
The mine will also consume and contaminate 250 billion gallons of Arizona's increasingly limited water sources, while the state faces drastic water use decisions due to the ongoing severe drought.
This past June, the Ninth Circuit, in a 2-1 vote, refused to protect Oak Flat and the Apache people and the state from this cultural and environmental devastation.