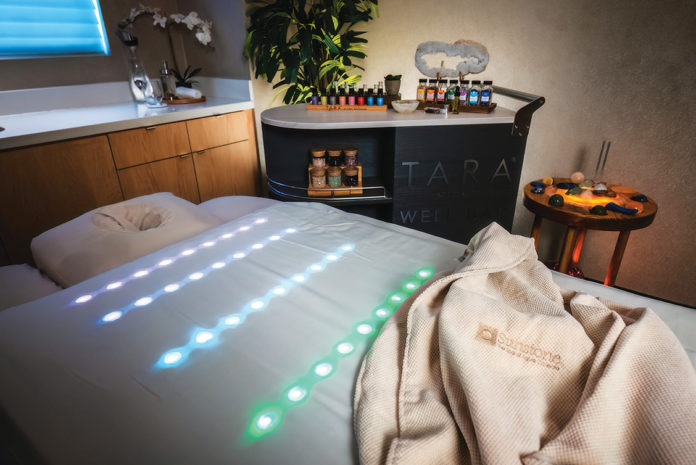 RANCHO MIRAGE, CA – Spas of America has released a list of the Top 100 Spas in North America in 2022, naming Agua Caliente Casinos' Sunstone Spa as the No. 1 spa in California. It is also the No. 10 spa in the U.S. and No. 12 spa in North America. 
"Our team is passionate about the guest experience and genuinely love pouring energy into every service and interaction," said Daniel Spencer, Spa Director at Agua Caliente Casinos. "This caring attention and our unique way of blending different elements of wellness continues to maintain and further our reputation as a nurturing spa that not only leads the wellness movement, but that's also one of the best in the country. I am proud of what we deliver to our guests and how we strive to always improve our services by layering treatment therapies to enhance traditional services for better results – from the menu to the delivery – so I am thrilled we made this list. I look forward to continuing the use of native botanicals in combination with technologies to offer therapeutic wellness infusions for our guests' most positive results." 
"Sunstone Spa at Agua Caliente Resort Casino Rancho Mirage is a wonderful spa and wellness experience in the heart of Palm Springs' Coachella Valley," said Craig Oliver, Spas of America President. "This desert resort has consistently been one of the leading spa and wellness destinations with our audience, providing guests with positive and healing energy and an ideal place to unwind, reconnect, and renew."
Sunstone Spa is a full-service spa that includes an expansive menu of massages, facials, wraps, healing modalities, detoxifying and rejuvenating one-of-a-kind treatments, talented therapists, a coed lounge, a private pool and cabana, as well as state-of-the-art technology including halotherapy, LightStim, infrared, Jetpeel, and EMF blocking materials throughout.
Sunstone Spa is part of Agua Caliente Resort Casino Spa property in Rancho Mirage, CA, and is consistently ranked the best spa in the Coachella Valley by numerous publications. In addition, the spa is currently one of the few spas in California that earned the prestigious Forbes Travel Guide Five Star award.