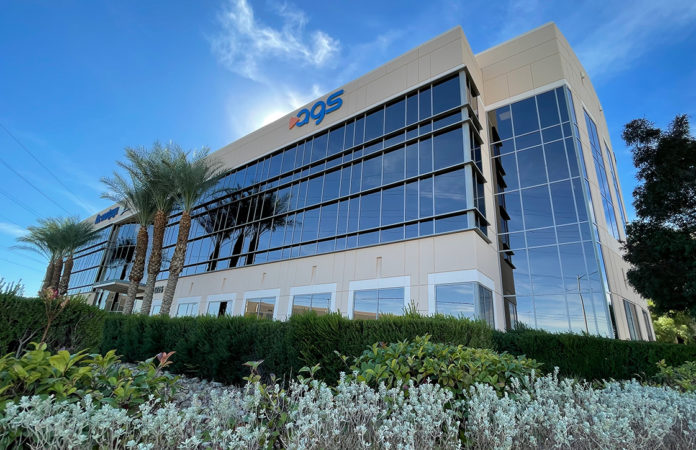 LAS VEGAS, NV – PlayAGS (AGS) has reported operating results for the first quarter ended March 31, 2023.
"Our record-setting first quarter revenue and adjusted EBITDA performance is yet another testament to the way in which the strategic investments we have made in our people and products over the past several years have strengthened the underlying resiliency and vibrancy of our business," said David Lopez, AGS President and Chief Executive Officer. "Supported by what I view as the strongest team and most compelling new product lineup in AGS's history, I am extremely excited about what lies ahead for the company and our shareholders."
"As an organization, we remain singularly focused on optimizing our operating and capital deployment efficiency to further de-lever our balance sheet," said Kimo Akiona, AGS Chief Financial Officer. "Supported by our strong first quarter financial performance, the growing demand for our high-performing for-sale products, and the relative stability observed across our recurring revenue operations, we remain confident in our ability to exit 2023 with net leverage inside of our targeted 3.25 times to 3.75 times range, with an intermediate-term focus on returning net leverage inside of 3.0 times."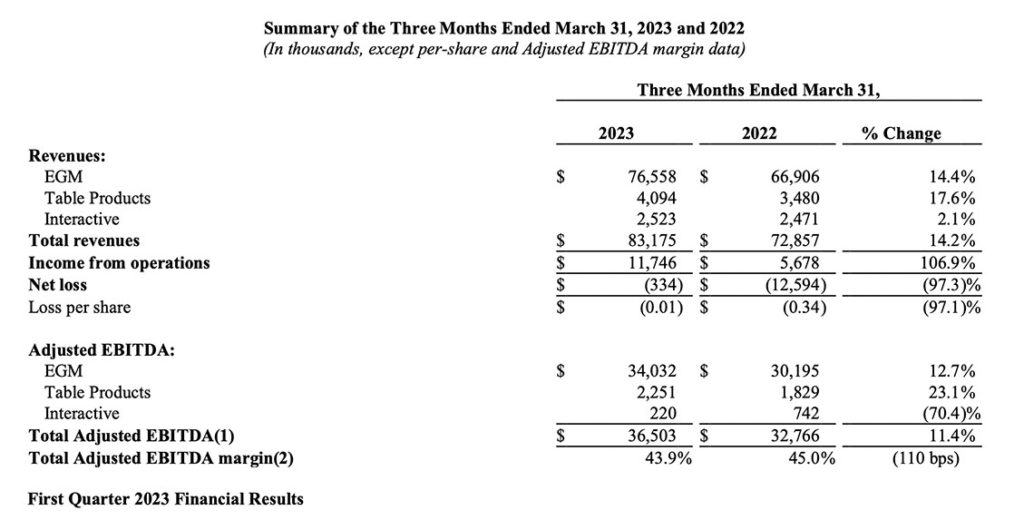 First Quarter 2023 Financial Results
Total revenue increased 14% year-over-year to a record $83.2 million compared to $72.9 million in Q1 2022. Table Products revenue advanced 18% versus the prior year to a record $4.1 million, supported by a more than doubling of card shuffler revenue in connection with accelerating customer demand for our PAX S single-deck shuffler, consistent growth within their installed base of industry-leading table game progressives, and further adoption of the AGS Arsenal site license offering. EGM revenue increased 14% year-over-year, paced by EGM sales revenue growth of over 20%, further recovery in our Mexico gaming operations business, with revenues up by over 15% year-over-year, and the achievement of record domestic EGM gaming operations revenue for the second consecutive quarter. Interactive revenue increased 2% versus the prior year, as outsized growth within our Real Money Gaming ("RMG") business was partially offset by an anticipated decline in social casino revenue as AGS continues to strategically re-orient our segment-level technical and commercial resources to maximize profitable revenue growth within the RMG channel. Total revenue improved approximately 2% over the then record $81.7 million delivered in Q4 2022, representing our ninth consecutive quarter of sequential total revenue growth.
Gaming operations, or recurring revenue, increased 10% year-over-year to $58.6 million, accounting for over 70% of our consolidated Q1 2023 revenue mix. Domestic EGM recurring revenue grew to a record $47.7 million, up 10% year-over-year and approximately 2% ahead of the previous record of $46.8 million set in Q4 2022. Our growing premium game mix, the expanded depth and diversity of our core content offering, which has benefitted our capital-light installed base optimization initiatives, and a stable domestic gaming macroeconomic backdrop supported our record Q1 2023 Domestic EGM recurring revenue performance. International EGM recurring revenue advanced by more than 15% year-over-year, paced by encouraging macroeconomic trends throughout Mexico, further installed base optimization, and favorable foreign exchange movements. International EGM recurring revenue has increased sequentially for eleven consecutive quarters. Table Products recurring revenue increased 9% year-over-year to $3.7 million, supported by a more than doubling of revenue generated by our growing card shuffler installed base, while Interactive revenue increased 2% year-over-year.

AGS generated a net loss of $334 thousand in Q1 2023 compared to a net loss of $12.6 million in the prior year period. The year-over-year decrease in our reported net loss was predominantly driven by our strong year-over-year revenue growth and the inclusion of approximately $8.5 million in non-recurring costs in the prior year period related to our February 2022 debt refinancing. These items were partially offset by the slightly higher interest expense incurred in Q1 2023 as a result of the move higher in market-level interest rates.

Total Adjusted EBITDA (non-GAAP)(1)increased 11% year-over-year to a Q1 record $36.5million compared to $32.8 million in Q1 2022. Year-over-year Adjusted EBITDA growth within the Table Products and EGM segments of approximately 23% and 13%, respectively, was partially offset by a decline within the Interactive segment, as AGS continued to strategically invest in the business to strengthen our RMG customer account management capabilities, accelerate the flow of new AGS game content into the North American RMG channel and diversify our online content offering into new game categories, including instant win and table games.

Total Adjusted EBITDA margin (non-GAAP)(1) was 43.9% compared to 45.0% in Q1 2022. The modest year-over-year change in our Adjusted EBITDA margin reflects the annualization impact of strategic headcount-related investments initiated in 2022 to support our longer-term growth initiatives and market-level inflationary cost adjustments, partially offset by continued revenue growth across our higher-margin recurring revenue channels.