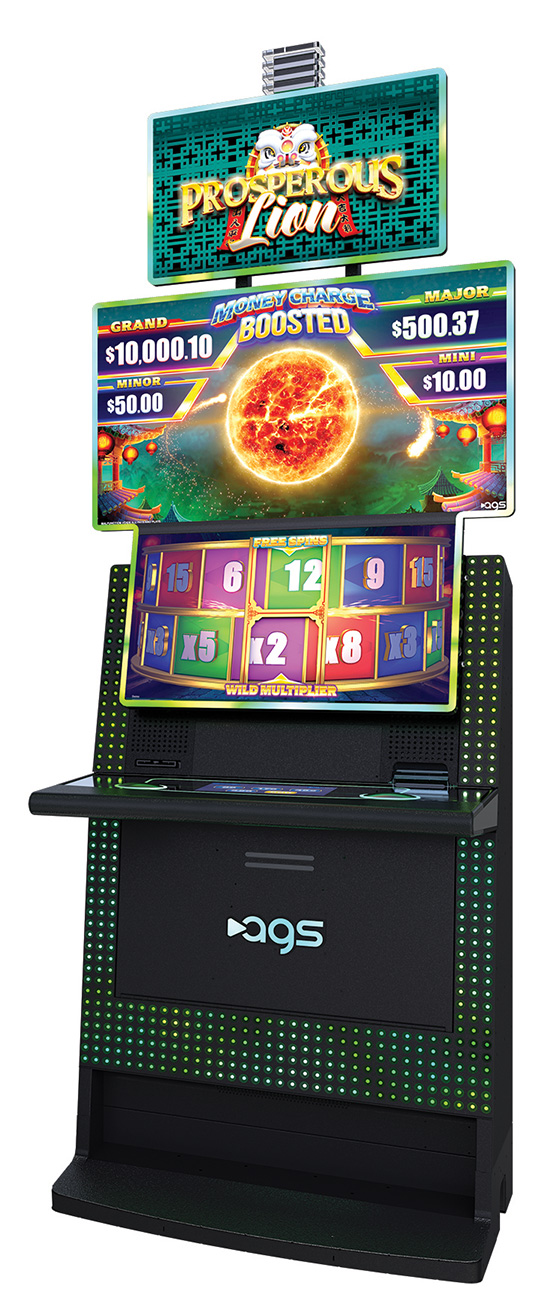 AGS
Phone: (702) 722-6700
playags.com
Class III
PROSPEROUS LION™

See your money double in Prosperous Lion™, presented on AGS' Orion Slant™ dual screen cabinet and offered in player-selectable, multi-denominations at $.01, $.02, $.05 and $.10 increments.
Part of the Money Charge™ Boosted game family, this title takes classic hold and spin mechanics to a new level with a glowing orb that boosts players' chances at electrifying wins. Money Charge Boosted Bonus is triggered with six or more cash-on-reels symbols in the base game. It can also be triggered with three or more bonus symbols in the base game and selected in bonus gateway. The bonus begins with locking all reels with lion symbols and turning those without into independent spinning reels. The player starts with three spins, and any additional cash-on-reel symbols result in the spin counter resetting to three. If there are 13 or fewer cash-on-reel symbols, then one reel will have boost symbols and boost any cash-on-reels symbols in the same row or column. The free spins bonus, selected in the bonus gateway, starts with up to 15 free spins (based on the gateway) with up to 8x wild multipliers added to the reels. The top screen orb animation adds an exciting dynamic that attracts players and instantly translates the game's primary goal.
With abilities to "boost" up prizes and player-chosen free games with multiplier bonuses, this title is sure to be a buzz on the casino floor.