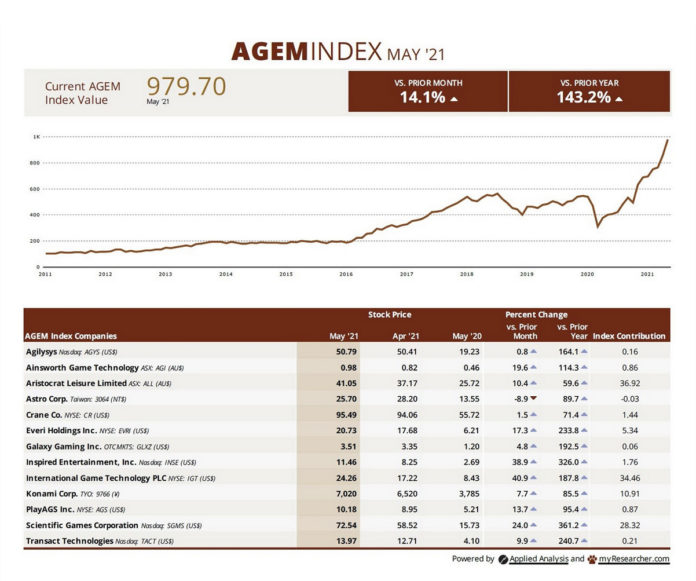 The AGEM Index increased by 121.27 points to 979.70 points in May 2021, a 14.1 percent gain from April 2021. In the last month, nearly all of AGEM Index companies reported increases in stock price, with 12 posting positive contributions and one recording a negative contribution to the index. The AGEM Index has trended positively for seven consecutive months and has reached its highest mark ever recorded. Additionally, the AGEM Index was up 213.5 percent from the March 2020 low point at the outset of the COVID-19 pandemic.
The AGEM Index's May 2021 growth was due in large part to a 10.4 percent increase in the stock price of Aristocrat Leisure Limited (ASX: AL), which rose from $37.17 to $41.05. The stock was responsible for 36.92 points of the AGEM Index's monthly growth. Another significant index contributor was International Game Technology PLC (NYSE: IGT), which added 34.46 points due to a 40.9 percent stock price growth from $17.22 to $24.26.
The major stock indices had mixed performances. The Dow Jones Industrial Average and the S&P 500 grew by 1.9 percent and 0.5 percent, respectively. Meanwhile, the NASDAQ experienced a 1.5 percent decline.