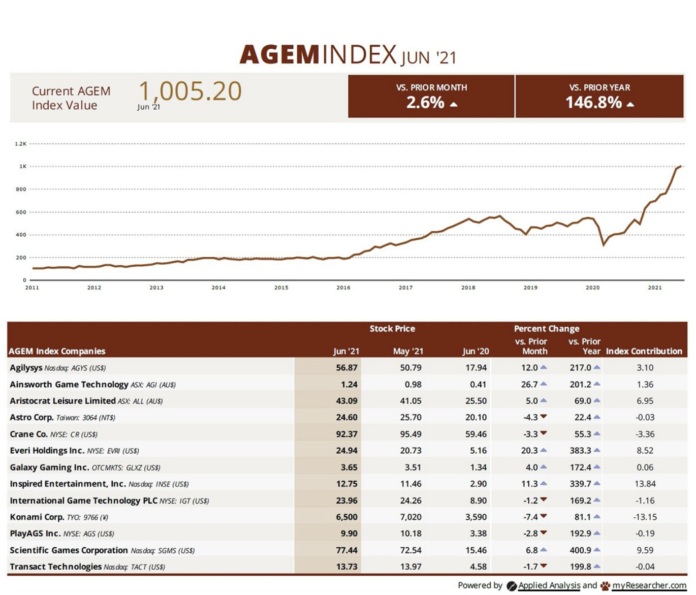 LAS VEGAS, NV – The AGEM Index continued its upward trend since October 2020 and reached a new high during the latest period. The index increased by 25.50 points to 1,005.20 points in June 2021, a 2.6 percent gain from May 2021. One year ago, the AGEM Index measured at 407.31 points. From that reporting period, the index has grown 597.89 points (+146.8 percent).
In the last month, seven of the 13 AGEM Index companies reported increases in stock price. The AGEM Index's June 2021 growth was due in large part to a 11.3 percent increase in the stock price of Inspired Entertainment, Inc. (Nasdaq: INSE). The stock was responsible for 13.8 points of the AGEM Index's monthly growth. Another significant index contributor was Scientific Games Corporation (Nasdaq: SGMS), which added 9.6 points due to a 6.8 percent rise in its stock price. Most of the stocks in the AGEM Index recorded triple-digit growth rates over the past year, with Scientific Games Corporation leading the way with a 400.9 percent improvement for its stock price since June 2020.
The major stock indices reported mixed performances. The NASDAQ and the S&P 500 grew by 5.5 percent and 2.2 percent, respectively. Meanwhile, the Dow Jones Industrial Average experienced a 0.1 percent decline.