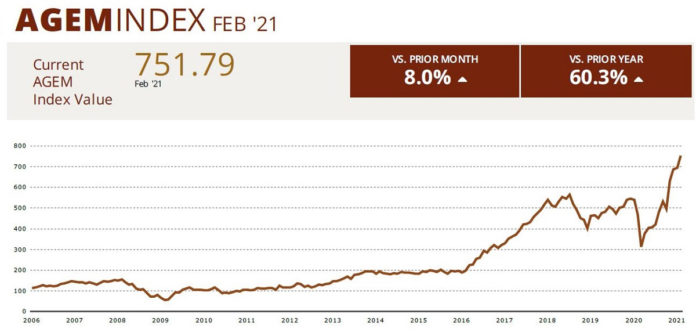 February 2021
The AGEM Index improved by 55.72 points to 751.79 points in February 2021, an 8.0 percent growth rate over January 2021. During the latest period, all but one company in the AGEM Index reported increases in their stock prices over the month.
The AGEM Index's monthly growth was driven by a significant gain in the stock price of Agilysys (AGYS). The company's stock price climbed by 62.0 percent and contributed 15.09 points to the AGEM Index. Another strong performer for the month was Scientific Games Corporation (SGMS), whose stock price increased 19.4 percent and contribution 14.94 points to the index's monthly rise.

The major stock indices performed well as the Dow Jones Industrial Average and the S&P 500 experienced monthly growth of 3.2 percent and 2.6 percent, respectively. The NASDAQ experienced a gain of 0.9 percent.