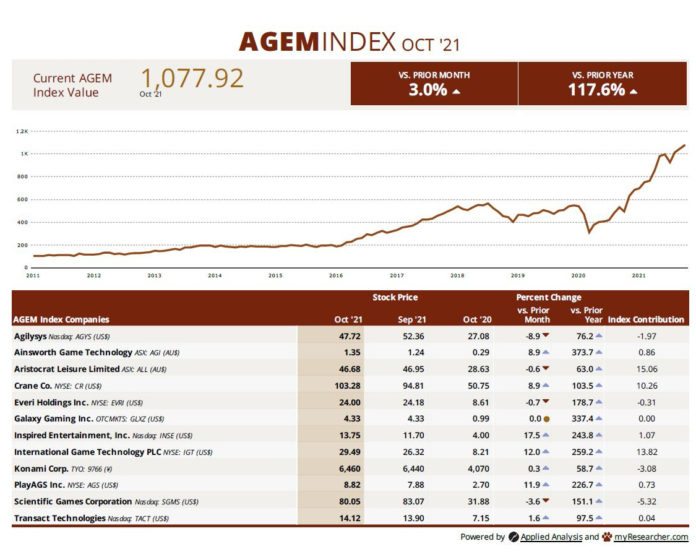 LAS VEGAS, NV – In October 2021, the AGEM Index improved by 31.17 points to a new high of 1,077.92, marking a 3.0 percent increase from the prior month. Compared to one year ago, the index has more than doubled from 495.31 for an annual growth rate of 117.6 percent. In the latest period, a majority of AGEM Index companies reported increases in stock price, with seven posting positive contributions, three recording negative contributions and one seeing no change from prior period.
The largest impact to the index was attributed to Aristocrat Leisure Limited (ASX: ALL). While its stock reported a 0.6 percent decline, Aristocrat added 15.06 points to the index due to an increase in outstanding shares that were used for equity raising to fund a new acquisition coupled with an improvement in exchange rate between the Australian dollar and the U.S. dollar. International Game Technology PLC (NYSE: IGT) was also a significant contributor to the monthly growth in the index, adding 13.82 points as the result of a 12.0 percent rise in stock price.
All three major U.S. stock indices increased over the month, with the NASDAQ and the S&P 500 growing by 7.5 percent and 6.9 percent, respectively. Meanwhile, Dow Jones Industrial Average experienced a 5.9 percent increase.