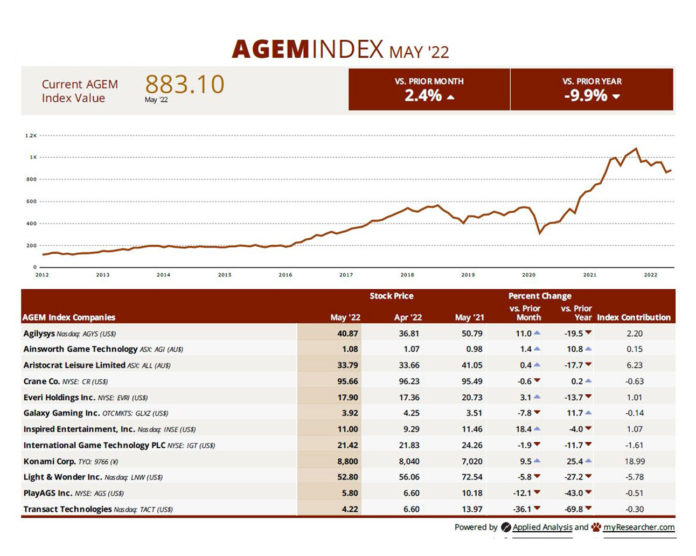 HENDERSON, NV – In May 2022, the AGEM Index rose by 20.68 points to 883.10, marking a 2.4 percent increase from April. Compared to one year ago, the index was down 96.59 points, or 9.9 percent. During the latest reporting period, six of the AGEM Index companies reported stock price increases, while the other six posted declines in stock price. As a result, half of the companies in the AGEM Index posted positive contributions and the other half posted negative contributions to the overall index, with net contributions resulting in a month-over-month gain.
 
The largest positive contributor to the monthly index was Konami Corp. (TYO: 9766), which reported a 18.99-point gain to the index as a result of a 9.5 percent increase in overall stock price. Meanwhile, Aristocrat Leisure Limited (ASX: ALL) contributed a 6.23-point gain to the index with a 0.4 percent increase in the company's stock price coupled with a strengthened exchange rate between the U.S. dollar and the Australian dollar.
 
In the latest reporting period, two of the three major U.S. stock indices observed positive but negligible growth. The Dow Jones Industrial Average increased by 0.04 percent from April, while the S&P 500 rose by 0.01 percent. Meanwhile, the NASDAQ saw a 2.1 percent decline over the month.
 
Note: As of April 29, 2022, Scientific Games Corporation (Nasdaq: SGMS) has been rebranded as Light & Wonder (Nasdaq: LNW).