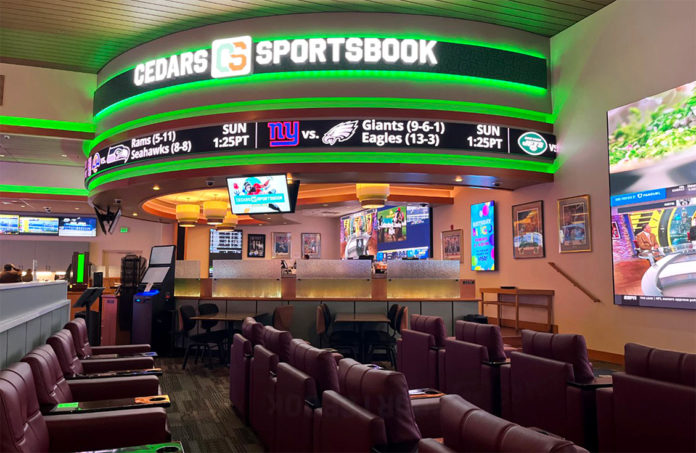 SEQUIM, WA – 7 Cedars announced the opening of Cedars Sportsbook to take place on Thursday, Jan. 12, 2023.
Cedars Sportsbook is the newest addition to 7 Cedars and features a 24-ft. video wall, oversized seating, seven betting kiosks, food and drink specials, and additional TV's. Cedars Sportsbook will feature real-time odds, point spreads, and over/under for all major sports betting.
Along with a ribbon cutting ceremony and giveaways, 7 Cedars will welcome Howard "Scooter" Chapman, to make the first bet. For over 70 years, Chapman has been the voice of local sporting events. Chapman announced his first Port Angeles Roughrider game in 1952, and in the decades since, Scooter has become a sports icon on the Olympic Peninsula.
At the helm of Cedars Sportsbook is long-time 7 Cedars Casino Manager, Bill Matsko. After spending the past 10 years working at gaming venues in Southern California, Matsko will bring his sports betting expertise back to 7 Cedars.
Just after the new year, Cedars Sportsbook cleared its final regulatory hurdle, and beginning Jan. 12, it will be open Monday to Friday from 11:00am, and Saturdays and Sundays from 8:00am. Sports betting kiosks, located throughout the casino, will open daily at 8:00am.
"The Jamestown Tribe and 7 Cedars are proud of the work done with the Washington State Gambling Commission to come to an agreement to offer legal sports betting on the Olympic Peninsula," said Jerry Allen, CEO of 7 Cedars Casino & Resort Properties.
7 Cedars will be celebrating the opening of Cedars Sportsbook throughout 2023 with various promotions, events, and hotel packages centered around major sporting events.