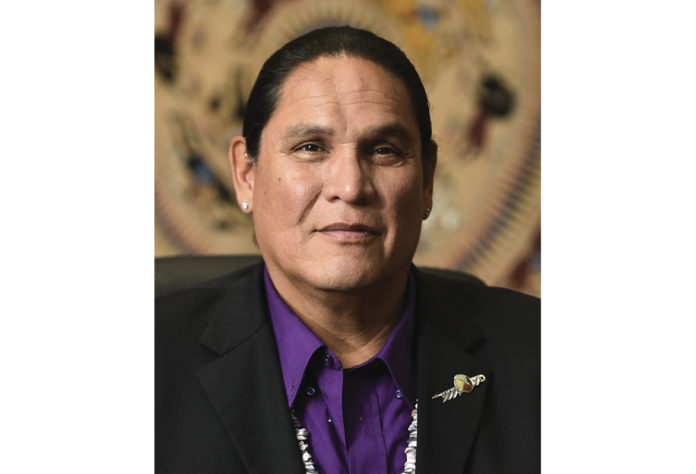 by Ernest L. Stevens, Jr.
Since March of 2020, the world as we knew it was forced to a new normal as COVID-19 cast a shadow across the globe. As we know, Indian Country was especially hard hit by the health and economic impacts brought on by the pandemic. These impacts touched all aspects of our lives, emotionally, spiritually, physically, and financially. It changed how we live, work, learn, pray, and engage in our communities.
Tribal leaders nationwide made it their top priority to protect the health and safety of their communities, our visitors, and employees. In the face of unprecedented economic adversity, many tribes responded by providing food, medical supplies, and other donations to neighboring communities to help us all get through this crisis.
As COVID-19 vaccines became available, Indian Country stepped up again to set a positive example, prioritizing vaccination for the safety of all of our communities, including sharing available vaccines with our neighboring communities.
The vaccine allows us to gather safely, see family, break bread, and for our Indian gaming family, come together to celebrate our industry and work to build our industry successes further.
This year's Indian Gaming Tradeshow and Convention will be held July 19-22 at the brand-new Caesars Forum Convention Center in Las Vegas. The gathering will undoubtedly be a first of its kind. For many, our tradeshow will be the first opportunity to travel and to gather in more than a year. This year's Indian gaming family reunion will be such a welcome sight. As many of you are long-time attendees, I would like to take a moment to describe this year's Annual Convention and Tradeshow, the first "in-person" tribal event since the pandemic started.
The National Indian Gaming Association is proud to join forces with the National Center for American Indian Enterprise Development's (NCAIED) Reservation Economic Summit (RES) in presenting simultaneous events that provide a fabulous opportunity for all of our tribal enterprises to showcase their businesses and products. While separate registrations are required to attend our events, we have worked with NCAIED to provide discounts on passes for attendees planning to join both events. I could not be more excited for this tradeshow and the partnership with our friends at NCAIED to help make this a one-of-a-kind opportunity for Indian Country. Our influential organizations have a long history of coming together to support one another. In this unique time, the joint venture helps coordinate our two shows in one venue and allows for the maximum amount of time for our attendees to secure vaccinations and safe travel.
The Indian Gaming Tradeshow Conference will present all essential aspects of the tradeshow that attendees have come to expect, including the annual membership meeting, workshops, the gaming commissioner certification series, and the Tim Wapato Sovereign Warrior Recognition Luncheon and the trade show exhibits.
The conference sessions will be available for all attendees at multiple host venues such as Bally's, Caesar's Forum, and the Paris Hotel. The particular emphasis this year will be placed on topics such as sports betting, online gambling, tribal-state compacting, post-pandemic recovery, gaming operations, federal legislative advocacy, and the cannabis industry.
Each topic has been carefully chosen to provide the best perspectives, strategies, and tactics from experts and thought leaders within the industry. Our focus is to help operators and vendors succeed in today's ever-changing gaming landscape as tribes reconfigure and adjust to new business models. With these new approaches in mind, we are excited to put on the first large gathering of tribal leaders and casino executives in the country.
Of course, there will be no shortage of work, fun, entertainment and honorings during the entire week, starting with our Welcome reception with the NCAIED, Monday evening, July 19, at Drai's Nightclub. On Tuesday, July 20, Gay Kingman Wapato, wife of the late Tim Wapato, will join me in hosting the Tim Wapato Sovereign Warrior recognition luncheon, memorializing the late Rick Hill, Chairman Emeritus of the National Indian Gaming Association. We are honored to be joined in this tribute by Hill's son Richard Elm-Hill and former Sycuan Band of Kumeyaay Indians Chairman Danny Tucker. On Wednesday, July 21, we will kick off the day at 8:30 a.m. with a keynote panel entitled "Domestic Extremism and Cyber Security" also at the Caesars Forum, that will be followed by the annual Indian Gaming Tradeshow and
Convention ribbon-cutting ceremonies at 9:45 a.m., officially opening the tradeshow floor for business exchange, viewing new products and services, and networking opportunities. Most of these events will be held at the brand-new Caesar's Forum Convention Center, located behind Harrah's Hotel.
As we present the annual Indian Gaming Tradeshow and Convention, we remember that first and foremost is the safety of our attendees. Please know that the current COVID-19 protocols we are following align with the Clark County Nevada requirements for large trade shows such as ours.
The path of this pandemic has been a long one and takes its place in our history. As we come together at long last, we must remember the path we have taken to get here. This includes the tremendous work of tribal leadership throughout Indian Country who helped lead their tribal communities through this pandemic and the dedication of the medical professionals, caregivers, and first responders, who, without hesitancy, worked tirelessly from the beginning. And finally, let's continue to pray for a safe journey for those who have walked on and their families who continue to heal from the loss.
I look forward to seeing each of you in Las Vegas as we regroup and reunite to build upon the success of the Indian gaming industry that has empowered tribal communities.
Ernest L. Stevens, Jr. is Chairman of the National Indian Gaming Association. He can be reached by calling (202) 546-7711 or visit www.indiangaming.org.