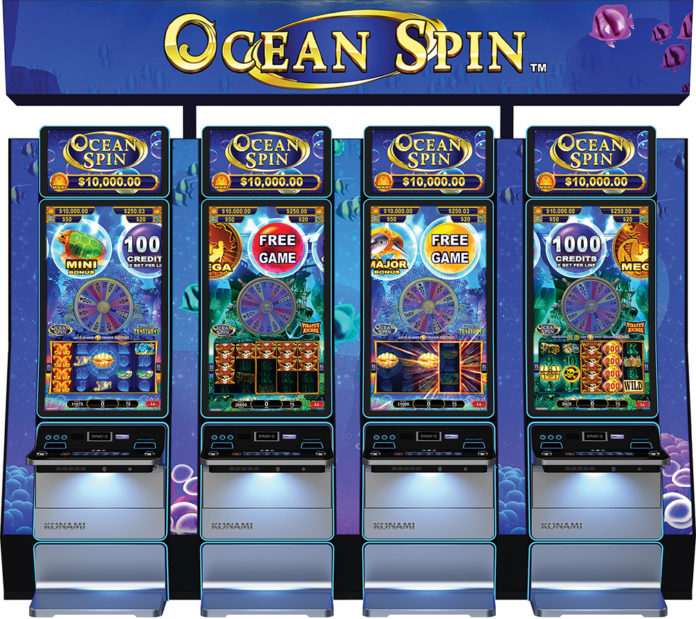 Konami Gaming
Phone: (702) 616-1400
gaming.konami.com
Class III
OCEAN SPIN™
Undersea adventure awaits, with a bounty of bonus events and winning experiences in Ocean Spin – Konami Gaming, Inc.'s newest premium series on the award-winning Dimension 49J machine.
This original linked progressive slot series showcases synchronized animation effects, spanning into its LED signage and digital toppers, and across multiple game cabinets. At the top of each game screen, animated bubbles float seamlessly across every connected machine, filled with potential bonus opportunities. Whenever any three or more clam symbols are collected, the Ocean Spin feature is awarded, and the player is invited to spin the animated bonus prize bubbles that float horizontally across all screens. Once the player swipes the screen to spin, prize bubbles whiz across the entire bank or pod, until the spinner lands on a credit award, free games, or instant progressive jackpot. The series also includes a symbol-trigger wheel spin bonus – boosted with a unique credit collection mechanic.
Konami's Ocean Spin is now launching at initial locations with two original base games: Ocean Spin Kingdoms Treasures and Ocean Spin Pirate's Riches. With elegant LED signage and 49-inch curved screen delivery on the premium Dimension 49J, this ocean-themed slot series creates a spectacular spotlight on the casino floor.