Thunder inDIGIfest 2021
March 26, 2021

-

March 28, 2021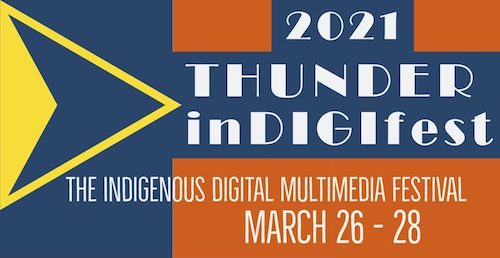 Fond du Lac Tribal and Community College (FDLTCC) in partnership with the American Indian Higher Education Consortium (AIHEC) are proud to announce THUNDER inDIGIfest 2021, an Indigenous digital multimedia festival to be held virtually on March 26-28, 2021.
Students, faculty, and staff from AIHEC's 37 tribal colleges and universities (TCUs) are invited to submit works in photography, audio, animation, and film for awards including $100 VISA gift cards and one-year licenses to the entire Adobe Creative Cloud software collection.
Live remote events like the screening of films by Native producers, a TCU student poetry slam, and panel discussions about Indigenous issues in the Digital Age will be featured throughout the three-day festival held via ZOOM.
THUNDER inDIGIfest 2021 is free and open to the public upon registration which is found at the event's website https://THUNDERinDIGIfest.info. "This festival is designed to let people tell stories about culture, traditions, and language in new ways using different methods," said Al Kuslikis, AIHEC senior associate for strategic initiatives. "It is going to be a great gathering with lots of practical information about the jobs and skills needed in the ever-growing field of multimedia production."
TCU applicants can submit as many works as they like in all four categories-photography, audio, animation, and video-before the deadline of Wednesday, March 26, 2021. Judges will select which entries will be forwarded to the awards competition. All audience members will also be able to vote online for the best overall entry in each category.
According to Lyz Jaakola, director of the FDLTCC Ojibwemowining Resource Center and one of the festival organizers, "It is an honor for FDLTCC to serve as the host of THUNDER inDIGIfest 2021. There are so many Indigenous stories to be told and with digital media now they can be shared with photos, audio, animation, and video."
Support for THUNDER inDIGIfest 2021 has been provided by Adobe, Inc., WDSE-WRPT (PBS) Minnesota, the Inclusive Design Institute, and the Tribal College Journal. For more information, please contact welcome@THUNDERinDIGIfest.info.